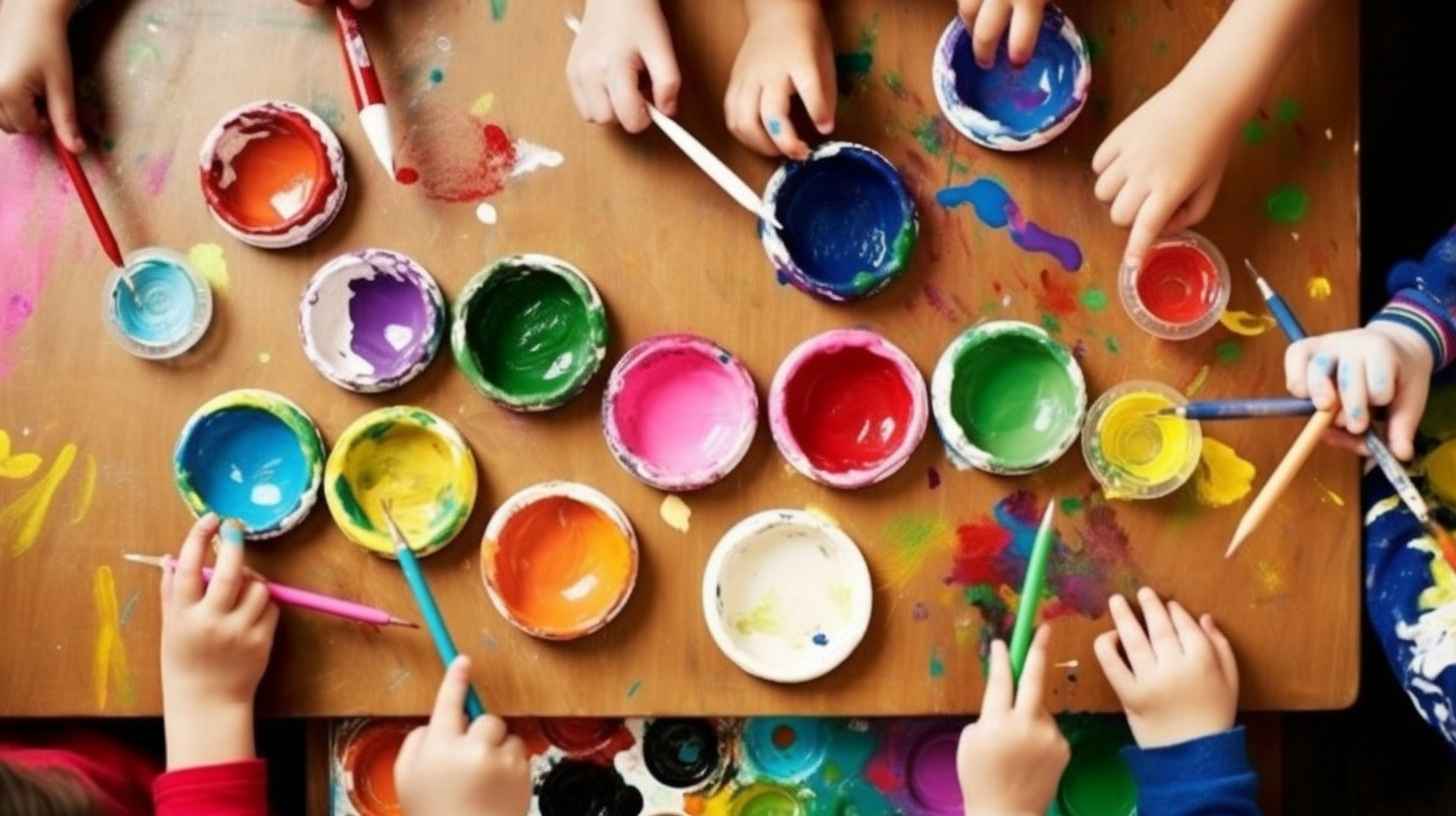 Preschool crafts are an exciting way for young preschooler to express their creativity, develop fine motor skills, and learn new concepts through hands-on activities; crafts can be simple or complex, from painting and drawing to cutting and pasting. Preschool crafts provide a fun and engaging way for preschooler to explore their creativity and offer many benefits to their overall development. This article will discuss the various benefits of preschool crafts, provide some ideas for fun and educational craft activities, and offer tips for incorporating them into a well-rounded preschool curriculum. Whether you're a parent, teacher, or caregiver, you'll find plenty of inspiration and practical advice to help young preschooler unleash their inner artists and learn through play.
What Are Some Art Activities For Preschoolers?
Crafting with Kids: Art Activities for Preschoolers
Everything changes when they get older (think older preschool age). Along with increased attention span and concentration on the task, fine motor abilities also improve.
The age at which a child can do this will vary. So, assess your toddler's or preschooler's skills by looking at them.
Creative Art Activities for Preschoolers
Your preschooler can express themselves most effectively via art. While it might seem like they're just making a mess, kids could be honing essential motor skills or learning to let go of things when they make a mess. Your preschooler will develop decision-making abilities through art while selecting tools or colors. Have you and your preschooler run out of creative ideas? These imaginative art ideas for preschoolers make craft time more exciting.
Creating Your Paint
Making your paint is simple and the enjoyable activity your preschooler needs to rekindle their enthusiasm for their art supplies! We like this easy flour-based DIY paint recipe.
How do you make flour paint? You can easily create flour-based homemade paint using a few basic household materials! We've got you covered with a completely "doable" simple paint recipe you can make with your kids, so there's no need to run to the shop or order paint online). Make a batch of flour paint to create a rainbow of hues during your next art project. Are you prepared to experiment with incredible DIY painting projects this year?
Make simple paint with our homemade recipes, which the kids will enjoy helping you prepare. We have many creative suggestions for producing color at home or in the classroom, from our well-known puffy paint recipe to DIY watercolors.
DIY Puzzles
Ask your preschooler whether they want to transform their finished drawing or painting into a puzzle to extend the enjoyment! Allow preschooler to draw lines over the image and cut it into pieces with safety scissors. They can mix it up after that and start working on their brand-new puzzle!
Splatter Painting by Rain
Making the most of inclement weather is made possible by this inventive painting technique! Allow your kid to squirt food coloring onto a sizable sheet of sturdy paper set on a baking sheet. Bring it outside when it rains (a little shower or drizzle works best), and let the rain combine the colors! The outcome will never be the same twice.
Even while living in a place with as much rain as Vancouver does on occasion can be a little depressing, I know that if we return to the arid desert, we'll miss it terribly. So we decided to go outside and enjoy it today rather than allowing the previous week's rain to keep us indoors. After a morning stroll and extended playtime at the park before lunch, we decided to go back outside this afternoon. To conduct a quick and enjoyable art project called "rain splatter painting," we took a baking sheet, some liquid food coloring (the neon sort), and some white construction paper.
Grace placed a construction paper on the baking sheet and thoroughly enjoyed smearing food coloring. We let the rain do its thing once she had the food coloring just how she wanted it. The splatter effect came immediately because it was pouring reasonably heavily. Grae enjoyed seeing the colors jump off the page and drop back down in little dots. She would pronounce, "This one is finished! " at some point in the procedure. ", after which we would bring it inside the house to dry before grabbing another piece of paper to spatter. Beautiful, splotchy, watercolor-like paintings are the end product.
Natural materials in art
There may be a ton of creative art opportunities in your garden! Let your youngster create their own "zen garden" in the sandbox using stones and gardening equipment. To adhere flowers to a design, collect them (weeds count, too!). Locate and decorate pinecones. Or, if you don't mind making a little mess, allow your kid to "paint" outside using a muddy concoction.
Kids Camera
Let your youngsters experiment with photography, a brand-new form of art! Many inexpensive cameras for preschooler are available (or, if you're bold, you can let them use your phone). If they need inspiration, give them a list of things to shoot in a scavenger hunt.
Copy a Famous Painting
Most preschooler will like having the opportunity to imitate anything created by a "real" artist, whether it be something timeless like Van Gogh's Starry Night or quirky like Andy Warhol's Soup Cans. Offer them a few options, then give them the colors and supplies they'll need to do their best. (If you have a tiny perfectionist, explain that it's simply for fun and that it doesn't have to resemble the original exactly to be successful.)
Response to a Work of Art
Your youngster can make something in reaction to a book, music, or visual art rather than simply replicating it. Perhaps they create a painting that makes them think of a song, or they imagine the homes of their favorite book characters. No regulations exist!
Make a mosaic
Hand your preschooler a glue stick (or assist them with a hot glue gun if necessary), and let them get to work! You may use anything from scraps of construction paper to extra buttons, coins, and giant sequins.
Use the Found Items
This craft gives your preschooler a reason to gather the little gems they seem to find on the ground all the time! Start a "found goods" box with your kids, and when they have enough, let them use the parts to make sculptures or add them to pictures. For instance, students can use genuine feathers they've found to decorate a bird statue, glue buttons to make a bunch of balloons, or combine their parts to make amusing abstract art.
Clay modeling for the sculpture
Making sculptures out of modeling clay is a slightly more "big kid" project that your child will adore if they enjoyed (or still enjoy!) playing with play dough as a toddler. We value these creative modeling clay ideas in case they need some inspiration.
Fake Glass Stain
For this craft, you'll need a dish soap solution, paintbrushes, and various shades of cellophane. You or your child can cut the cellophane into any shapes you choose to make your stained-glass artwork. You can choose a simple form mosaic or something more complex. Then let them adhere the cellophane to the window and paint the dish solution. When you're ready to clean up, it should stick well but come right off!
Beautiful Rainbow Window Art for Kids to Create!
Making art while observing the wind, rain, or snow swirl on the other side of the glass is truly beautiful. The gloomy winter days seemed to be perfectly countered by a rainbow window. We constructed our rainbow window using a diluted dish soap solution to adhere cellophane directly to the glass. No need for adhesive paper!
Bottles for mixing colors
Combine water and primary-colored food coloring in some discarded plastic water bottles (red, yellow, blue). Then, using a funnel, let them mix various colors into additional empty water bottles before capping them and shaking them. They will enjoy learning the multiple combinations they can use to produce their favorite colors, and it's a terrific approach to teach them about color mixing.
Boost tape-resist artwork.
Have them shred a piece of tape to make a picture instead of spraying bits of video on a sheet of paper or doing it yourself! Finish off the tape resist art by adding details.
Making this tree art is extremely easy! The key is tape resistance! After finding them on Art Projects for Kids, I decided we had to do these lovely Birch tree paintings. We also put up some decorations!
Add Sensory to Art
Art can benefit from sensory input. Although we used sand, you could genuinely use anything in its place: Rice, mud, sugar, salt, flour, and tissue paper.
Rainbow Sponge Art
Colorful sponge art preschooler can accomplish this, yes. However, young preschooler can take the time necessary to create this rainbow.
Melt the Shaved Crayons
Crayons may be melted and shaved! The shaving of the crayon is excellent for developing fine motor skills. And their designs can be cool (ahem, while doing so, learn a little about color mixing)!
Use Multiple Paintings Together
To make an artwork, combine several painting techniques. To fix it, preschoolers will need to follow instructions. They, moreover, have the endurance to put everything together. But it's straightforward!
Simple Spring Flower Art Craft for preschooler Using Stamps
We all felt like our home needed some springtime color. The perfect spring craft was this easy one! Additionally, it's easy. Even young preschooler can press a bottle bottom into paint and paper.
Tie Dye
Bind something with dye! A pillowcase, a sheet, and a t-shirt! They'll adore having something special they can use or wear that they produced themselves! Attempt various tie-dye effects as well. Rubber bands are the key to everything!
Instruments made of the paper plate
Utilize paper plates and inexpensive decor to create tambourines and other musical instruments! Your preschooler now has the musical instrument they made with their creative hands, thanks to this excellent noise maker manufactured from simple materials!
Making ice art
Use ice to create paintings and other kinds of art! Kids can swirl paint over various papers to make stunning, one-of-a-kind creations.
CD ornament for hanging
By saving this from the garbage and allowing young preschooler to create their sparkling works of art from it, you may use old CDs to clear out unwanted clutter. This enjoyable recycling activity gives preschooler an inexpensive and enjoyable experience while teaching them the importance of recycling.
Waxed paper art
Kids enjoy coloring on paper, a book, or even the wall! Kids are rarely allowed to elaborate on alternatives to ordinary paper, such as wax paper, which produces remarkably distinct outcomes.
Give your toddlers some shapes to cut out and let them decorate them however they choose using crayons and markers. You or another adult can carefully iron the artwork. At the same time, they observe to produce a seamless blending of vibrant, joyful colors that you can hang up wherever, including in your child's room.
What Type Of Art Do Kids Like?
Unlocking The Artistic World Of Kids: What Do They Really Like?
Various artistic activities, such as painting, coloring, sculpting, and drawing, are included in the curriculum for kids enrolled in childcare. Making art can help young preschooler in several ways that advance their development. Child's growing muscles can better control and coordinate when given a chance to use art supplies. Engaging preschooler in color, texture, and design activities can help them develop cognitive abilities. Preschoolers can express themselves in ways through art that allow them to be themselves, allow for the resolution of conflict, and establish limits for self-control. Through the medium of art, kids can grow and express their creativity.
Preschoolers can expand their capacity for critical thought and creative potential during preschool classroom art lessons. Although having a central location is necessary, it can be challenging to establish one and keep it operational.
You can build a fantastic art museum in a relatively small space.
It's only sometimes the case that the most popular exhibits at art museums fit your expectations. You can unleash their hidden creative potential by filling the art center with the materials the kids adore the most.
Art ideas for kids
1. Raised painting on salt.
This time-honored craft activity is perfect for preschooler of all ages, beginning with preschoolers. Additionally, it makes use of supplies that are already in your possession! Salt, glue, food coloring, or liquid watercolor paint, whichever you prefer.
2. Using Watercolor Resist in Your Paintings
It is fun to investigate different watercolor resist techniques with preschooler. The crayon drawing on watercolor paper, followed by adding watercolors to observe how the wax affects the paint's adhesion, is the simplest form of this activity.
3. Suncatchers made out of paper towels.
Make pretty sun catchers out of tissue paper and hang them on windows. You can create a nature suncatcher using flowers, leaves, and other natural elements by adhering them to a paper plate and using the plate as a frame. This lovely spring or summer decoration would be perfect for outdoor use.
4. The Drawing Game of Back and Forth.
An activity involving drawing in which players can build on each other's drawings and which is appropriate for preschooler of all ages as well as adults. One of the best ways to connect through the power of imagination is to participate in a game of back-and-forth drawing. In addition, it is a good waiting game to play in places like restaurants and doctors' offices.
5. Marbled pattern created with shaving cream
Making marbled paper at home using shaving cream marbling is the easiest, cheapest, and most effective way to create marbled paper. Without question, this is one of our all-time favorite creative endeavors.
6. Making Art by Blowing Through Straws
Blow painting with straws is an activity that is not only simple but also a lot of fun for preschooler of all ages. Using a straw to move liquid paint around on paper in a random pattern can result in exciting ways.
7. Playing with Playdough and Creating Models
Some of our favorite imaginative play dough ideas for preschooler include the creation of fantastical creatures, the use of poke-ins, the utilization of play dough mats, the formation of letters, and the engagement in pretend play. Check out our recipes for cooked play dough, edible play dough, and play dough that doesn't require cooking!
8. Using symmetry in one's painting.
The art form known as symmetry painting also goes by blotto painting, smush art, and squish painting, amongst others. Whatever you choose to call it, kids of all ages like it. The result is always different, but it's still easy and enjoyable to do each time. In addition, it makes the perfect craft for St. Valentine's Day!
9. Spin painting.
Kids can make spin paints using a salad spinner or a spin painting machine. A comparison of the two methodologies, as well as some recommendations for what should be done with all of the spin art
10. Splatters of Paint
What sounds like a painting with splatters is precisely what it sounds like! The preschooler we know who participate in this action art activity enjoy it. You must give it a try; it's super simple, super enjoyable, and super messy!
The Advantages of Art for Preschoolers and Young Preschoolers
Parents frequently see art as an optional extracurricular activity for preschoolers. On the other hand, it has been introduced that art is an essential stimulus for your child's development of both intrapersonal and interpersonal skills. Let's examine the four main ways art helps young preschooler develop their life skills.
Enhances fine motor abilities
Many preschoolers today struggle with basic skills like holding a pencil or picking up a cup when admitted to a school. You must give attention to their fine motor skills due to the underdevelopment of their small muscles, which contributes to their inability to do so.
Preschoolers can work these small muscles by cutting paper with scissors, coloring with crayons, or painting with their fingers. With time and repetition, their fingers, wrists, and hands tend to strengthen their muscles, enabling them to perform the tasks they had previously found challenging.
Support for Decision-Making
As they create their works of art, preschoolers are put in situations where they must make crucial decisions. Should they cut the page with their hands or with scissors? Should they paint the project with a brush or their fingers? Making decisions like these teaches your preschooler how to think critically and handle challenging situations.
Later years of your preschooler, continue the exploration of various artistic mediums. They improve their decision-making and problem-solving abilities when exposed to new situations and given multiple options. This is primarily due to the demands that all artistic disciplines place on students' ability to focus intensely and coordinate their mental and physical activities.
Enhances mathematical skills
Preschoolers can acquire and develop math skills through activities related to the arts. After finishing their drawings, preschoolers frequently struggle to describe them. Their preschool mentors in Melbourne can help them learn the correct names of colors, shapes, and materials so that they can express their creations.
Your preschooler will then begin deliberating and looking into the shapes, sizes, and hues that most accurately represent what they initially tried to express through drawing. This learning-through-play approach is more successful at teaching kids math concepts than most other activities.
Similar to how learning music can help your child become more familiar with particular mathematical concepts. Many believe that music's beats, melody, and rhythm represent mathematical ideas like patterning, sequencing, counting, and other similar statements.
It helps people improve their language skills.
It is essential to remember that in addition to developing their math abilities through artistic activities, your preschooler are also learning language skills. You can find the concept's key in describing their creative endeavors.
Preschoolers frequently struggle to express their emotions when you encourage them to discuss their artistic expression. As a result of this struggle, they unintentionally become motivated to learn languages.
Having regular preschool art activities in your classroom has a lot of advantages.
Painting
Amazing things occur when you put a young child in front of an easel with paint and brushes. Young preschooler appear calm and centered by the sensory experience of feeling the paint flow smoothly across the paper. Working at eye level while painting on an easel, they can see the colors blending and swirling right before their eyes! Some kids might choose to stay at the easel for the duration of center time—my favorite artistic endeavor.
Producing Art
Process art, unlike easel painting, involves artists combining various media and techniques as they work. We might paint but also use dishwashing sponges, tissue rolls, makeup brushes, and even feathers. Kids will collage, layer, sketch, add glitter, and cut. Process painting is another technique you could try to connect literacy by creating artwork inspired by books and stories.
Making a Craft
Craft projects with students are much cuter than other activities! Knowing they will make exciting crafts for them will make the kids want to visit the school or art center every time! They still find it entertaining whether it features flying bats, superhero triangles, groundhogs, Chinese dragons, kites, or reptiles. As a result, try to include a fun craft in lesson planning. Creating a theme-related art that will impress the class with planning, investigation, and creativity is simple.
Preparing Art Center in a Preschool
Preschoolers engage in process art when they can explore various mediums and create whatever they please. This freedom encourages experimentation. Every day, the preschooler in the class are allowed to utilize the art center. There are no deadlines, specific instructions to follow, pre-made templates, or templates that have already been made, and there are no pre-made templates.
Making art supplies easily accessible to preschooler is one of the essential functions of this center. If the preschooler can quickly locate the materials in the center and use them, they will be more likely to use them to create something.
1. Know the size and location of your art center.
The first step in creating your art center is deciding on its size and location. Choose your option based on the size of the area, the number of additional learning centers you plan to open, and the number of kids in your care. Your choice will also be influenced by how many kids you want to have in the learning center at any given time. It's crucial to remember that learning centers must be big enough to hold three to four kids at once, ideally more.
Place your art learning center close to a sink to make cleanup and hand washing easier. Depending on the activities and the number of preschooler present, an art learning center may be quiet or noisy. The literacy learning center, the technology learning center, and the math and manipulative learning center are significant nearby learning facilities with varying noise levels.
2. Pick the Proper Furniture for Your Room
Your art learning center needs tables, chairs, and easels so kids can work comfortably. Depending on the art center's size, one or both types of furniture may be used. Table tops should be simple to clean, and chairs should have a suitable height for the preschooler under your supervision. Double-sided easels are an excellent option for small art centers, but if you want a space that You can use for different things, tabletop easels are an easy solution.
Make sure to leave room for storage cabinets to store paints securely, and other items preschooler shouldn't have easy access to. A drying rack is a valuable addition to your art studio, especially if preschooler will be painting a lot. Child's artwork can also be displayed using a bulletin board room divider at a height that is convenient for them to see.
3. Use Splash Mats and Aprons to make cleaning up simple.
Nobody wants to waste time scrubbing paint, glue, or glitter off the classroom floor. Remember that splash mats, art trays, and a dedicated area for crafts can help prevent a giant mess. Putting splash mats under easels and other equipment, or placing them on tables, to better protect surfaces.
Institutions teaching art must also provide aprons. Choose aprons that are easy to care for and the right size for the preschooler you watch. Aprons exist for toddlers, preschoolers, primary school students, and adults. Also, consider whether a sleeveless or sleeved apron is the most appropriate for your art center.
4. Find Useful Art Storage Solutions
Many art supplies are available, so arranging and storing the ones you choose for your art center in the proper storage bins is essential. Storage options like art caddies, scissor racks, and art tubs are fantastic for keeping school supplies nearby.
A movable art cart can give you extra storage and make it easier to keep everything arranged and transportable if your art center is tiny or you need to move art supplies between classrooms. Using a paper center with a child-safe cutter, you can save paper in one section of the center and give kids a variety of paper lengths.
5. Select a Range of Art Supplies and Tools for Kids to Use
Based on the varying skill levels of your students, you should offer a variety of diverse art supplies in your classroom's art center. Remember to connect some readings, projects, and activities to other concepts or in-class activities. The following suggested art materials and tools can be included in your art center for kids to use when making crafts, illustrations, or paintings.
Why Is Crafting Good For Kids?
The Art of Learning: Why Crafting is Essential for Child's Development
Many parents today rely on modern technology to keep their preschooler entertained and occupied, ignoring the benefits you may gain by engaging in activities such as arts and crafts. Although preschooler should indeed be familiar with technology since it is so vitally important, this familiarity should not come at the expense of their capacity to play and be creative. The ability for preschooler to express themselves artistically is just one of the many benefits you may gain from participating in arts and crafts. Some of these other benefits are included below.
Crafting Benefits for Preschoolers
What are the advantages of making crafts with preschooler? In truth, there are so many! Ensure that your preschooler exhibit their creativity as part of the maturation process. There are numerous advantages of engaging in crafts with your preschooler.
There is no downside to making it; it is an excellent activity for preschooler to help them grow into remarkable individuals.
Here are the numerous advantages of crafting and maintaining creativity.
1. It provides An Emotional Connection.
Creativity with preschooler allows them to express themselves artistically. Allow the youngsters to choose the sort of project or the method of embellishment in some stages of the creation process. For instance, if you are doing an animal project, allow your child to choose the animal and its appearance.
It is about demonstrating that self-expression of emotions and sentiments is beneficial.
This will help preschooler understand that sharing and releasing feelings is OK. preschooler who experience unpleasant situations can express their emotions through crafts or art.
They will have an optimistic outlook since they will not stifle or conceal their emotions. Mental health concerns are significant, and I urge my preschooler to discuss their feelings.
Help kids create their paper bag puppets and stage a puppet show, including the finished creations. Inspire them to write the play in a way that reflects their own emotions.
You can sketch a face on a plain paper plate if they do not wish to create a puppet. Tonight, I did this with my preschooler.
Sometimes preschooler are reticent to express themselves verbally, but they will gladly sketch their emotions for you, allowing them to discuss them!
2. Planning Abilities and Focus
When creating crafts, devising and adhering to a plan is necessary. Using the same illustration as previously, we build an animal craft. The youngster must choose an animal, how they want it to appear, what materials they need, and how they will construct their vision.
This benefit teaches preschooler problem-solving and planning skills. It also instills the concept of having a goal or vision and planning what is necessary to achieve it. They would acquire self-confidence after observing how well they executed their plan.
Making bookmarks out of paper clips is a fun and easy craft idea. Let them deliberate over what they want to put on their bookmark. Then, they can use it as a bookmark in their diary.
3. Improvement of Dexterity and Accuracy of Movement
Many craft projects need a wide range of skills, including cutting, gluing, and manipulating materials. Crafting also aids in the growth of kids' dexterity and motor skills.
Help preschooler hone their fine motor skills by having them cut out their projects (with safety scissors, of course).
Pipe cleaners and other objects that can be bent and twisted are great for practicing fine motor skills while also being entertaining. Play dough and pipe cleaners are perfect for this purpose.
Pipe cleaner butterfly craft idea. With the help of this pipe cleaner butterfly, they can practice their skill. The intricate pipe cleaner bending in this activity will exercise their fine motor skills.
4. Learning Through Various Learning Methods
Teach them verbally how to make a paper tissue snowman as a craft project. Show them our photos so they can see us. Show them how to begin physically.
Even when it is finished, adding certain textile elements feels hazy. Like many of my craft ideas, this is fantastic for sensory stimulation.
There are three primary methods of learning:
Auditory
Visual
Kinesthetic
Auditory Learning:
You instruct them through auditory learning by verbally reciting the instructions. This will allow them to hear and comprehend the crafting instructions.
Visual Learning:
You may visually demonstrate the craft by displaying our step-by-step images. This will also facilitate their visual learning of the art.
Kinesthetic Learning:
And then, teach them physically by demonstrating with your hands and allowing them to practice – walk them through the processes.
Through all of these approaches, crafts will aid child's education. This will help in making education and learning simpler.
5. Promote Multicultural Awareness
Make a Native American dream catcher as a craft project. Teach your students the Native American significance of dream catchers and how they work to ward off scary dreams!
Doing projects inspired by many civilizations is a beautiful way to introduce your kids to diverse customs and cultures. It's an excellent method to demonstrate how every culture is valuable and exciting to learn about.
They will better understand a wide range of people and become more accepting of everyone.
This is particularly helpful in reducing bullying. Preschoolers exposed to diverse cultures will be more accepting of classmates who practice different rituals and beliefs. Your preschooler will accept it and may understand why other kids dress differently or have particular eating habits if they have those things. Because it becomes "natural" to them, they no longer need to criticize or bully. Because of this advantage of craftsmanship, no one is perceived as unique.
6. Connecting a Positive Reaction to Learning
Craft Idea: Create a pencil holder with an underwater motif.
Always be sure to educate youngsters about something with every craft you do with them. At the same time, teach preschooler about the species that inhabit the ocean. If you are doing an animal-themed craft, tell preschooler about that species. This benefit of crafting will enable students to equate crafting with learning and learning with enjoyment. This will assist with schoolwork and interest the preschooler with knowledge, even when they are not preparing.
As an example, we construct a pencil holder. This is a lot of fun, and the finished product is whimsical and colorful, so preschooler will want to use it afterward. It is an excellent technique to urge kids to arrange their belongings, maintain cleanliness, and encourage sketching, writing, etc.
The preschooler will be very proud to utilize a product (such as our pencil holder) that results from their labor.
7. Bonding Among Students or With Parents
Crafting with your preschooler will strengthen the parent-child relationship. Why not set aside weekly time for crafting with your child? This is quite beneficial for them. It enables you to collaborate with them to produce something enjoyable and attractive.
Instead of putting your child to work on a craft while you clean, please get involved and teach them. This is an excellent bonding opportunity. This is also beneficial in the classroom and among siblings. Create this bonding environment by having them assist one another, share their creations, and share ideas.
Make folded paper crafts similar to these and have the preschooler read each other's fortunes—an excellent method for preschooler to interact.
8. Confidence And Individualism
Create a stunning paper fan using folded paper – Encourage the preschooler to decorate it to reflect their individuality.
Preschoolers will discover that expressing their imagination and emotions is enjoyable. They'll be:
Develop confidence in their ability to make sound choices.
Desire to display their work and be proud of it.
Be enthusiastic about what they can develop on their own.
This is an excellent method for boosting their self-esteem and allowing preschooler to express their emotions.
It allows them to vent their frustrations or channel their energies into decorating. Plus, it distracts them from the TV.
9. Make Selections and Decisions
This advantage of crafting gives preschooler the freedom to choose what project to do, how to make it, how to design it, etc.
It will give them the confidence to decide and consider their options.
To guarantee you receive the maximum value from this offer:
Have the youngsters generate ideas for the project and then sketch a plan or template.
Ask them to describe what they want to produce, what they need, and how they will construct it.
Creative idea: Make a bookmark of a critter (such as this bumble bee) and let the child select how to cut the foam to create their pet. Only assist them if they specifically seek it.
10. Activates Neural Processes
Even if youngsters are not physically active, their brain waves are stimulated, and they remain cognitively engaged by engaging in creative and craft activities. It is necessary to maintain mental stimulation.
Create some creepy-crawly creatures. And don't just build the craft; consider how to position these small critters to startle someone!
Crafting is an excellent way to keep child's minds active during summer vacation (without them realizing they are still learning).
Why not do crafts with your preschooler? These are only a handful of the advantages. Even one of the benefits of crafting is a terrific opportunity for personal development for your preschooler.
Some of these advantages extend to adults, so you would also benefit from crafting with your preschooler.
Why Is Creativity So Essential?
Creativity and imagination go hand in hand! Creativity relies on imagination, and vice versa. Vision is essential for problem-solving, out-of-the-box thinking, and immersing oneself in art, literature, and film interests. Artistic thought and creative expression contribute to the expansion of the imagination.
Creativity helps youngsters comprehend themselves. Creativity is an essential kind of self-expression, and how preschooler exhibit their creativity assists them in understanding their inner thoughts, emotions, likes, and dislikes.
In addition to aiding in self-understanding, creativity is a necessary form of self-expression!
Creativity underpins essential talents such as problem-solving; out-of-the-box thinking is a crucial skill that can assist in overcoming a variety of difficulties and challenges.
Creativity enhances resiliency! Thinking creatively lets us view obstacles and difficulties from multiple perspectives, allowing us to overcome them or solve problems.
Easy Crafts For Kids To Do At Home
Unleash Your Child's Creativity with These Simple Crafts
Paper-Mache Vases
These paper-mache vases are ideal for holding a beautiful bouquet or serving candy. You can also use them as a centerpiece for your table. Enjoyable for kids as well as adults.
To make this, you must blow up two large and medium balloons. It is recommended that white paper-mache craft paper be utilized to cover each, with the bottom one-third to one-third and the edges remaining unfinished. Towel yourself off. Pop the balloons to get rid of them. Each one should feature a clear glass vase at its center, which should be filled with water and adorned with flowers.
DIY flower crown blooms
Making your own DIY flower crown blooms is easy to brighten up any day. Make whatever you want using natural, fake, or artificial flowers—amusement for adults, with an adult present to supervise using wire cutters or other electrical equipment.
To make the crown, you must first measure the wearer's head to get the circumference of their head. The following step is to create a circle by twisting the ends of a piece of wire cut to a length two inches longer than the measurement is taken. Next, gather a few flowers, and after cutting the ends of the floral twine to a height of about 2 inches, tie them together using the floral cord. Carry until the flower bundles cover the entire circumference of the wire circle. Use floral tape to fasten the bundles to the wire ring, and slightly overlap the piles to conceal the stems.
Basket made of rope with a dip dye finish
Add some color to a cotton basket that is otherwise plain to be enjoyed by people of all ages.
Dip the top third of a cotton basket in the desired fabric dye color. Once everything is dry, put treats or craft supplies inside.
Decorative daisies made of ribbon and buttons.
These adorable flowers are a do-it-yourself project that can be made using grosgrain ribbon and either new or vintage buttons. They can be worn as bracelets or used as napkin rings. Appropriate for people of all ages
To make, cut five pieces of white grosgrain ribbon with lengths of three inches and widths of three-eighths of an inch. The ends are rounded off. Glue one piece on top of the next, offsetting each one as you go so that you end up with the shape of a flower. Attach a yellow button to the middle of the back and a piece of green twine to tie around the button.
Hoops for the Display of Stitched Jewelry or Artwork
You can hang earrings from embroidery hoops filled with cane webbing and transform them into works of art by stitching them with yarn. In either scenario, they are fun activities on a gloomy day at home. Suitable for people of all ages but requires adult supervision when using the needle.
To make the rings, cut the embroidery hoops into rings. It is best to cut caning pieces to be slightly larger than the inside ring, and then the parts should be affixed to the ring using hot glue. You can paint the circumference if you like. After it has had time to dry, place it over the inner circle and tighten it. To make an artistic piece, thread yarn onto a needle with large eyes and then stitch the design of your choice. To use the caning holes as a jewelry holder, hang earrings from them or attach them to the caning.
Bandanas were used as covers for the pots.
Wrap a variety of colorful bandanas around each of your pots to give them a more vibrant appearance. Everyone of any age can have fun with Mod Podge if an adult is present to supervise.
The application of Mod Podge to secure a bandana to the exterior of clay pots of the desired size is all that is required to make a bandana planter. Fold the fabric so it is one inch wider than the top rim, and then cut off any necessary excess fabric. When it is dry, fill it with ferns or flowers in season.
Homemade Air Fresheners
An easy-to-make air freshener in the shape of a tree will add a bit of a crisp scent when the weather is gloomy. Essential oils are used in their production, so you can reassure that they do not contain any chemicals that could be hazardous to your health. Anyone and everyone of any age can use the essential oils under the supervision of an adult. To make this, begin by tracing twice the outline of a wooden Christmas tree ornament onto a scrap of fabric. Cut out the front and back of the ornament and then glue them on. After it has had time to dry, saturate the material with the essential oil your father prefers, such as used cedar. To hang the ornament, thread the twine through the loop at the top of the decoration.
The benefits of Crafting to Preschoolers
Young preschooler have an incredible capacity for learning new skills and acquiring further information as they navigate and engage with the world around them for the first time. Child's motor, cognitive, and social abilities continue to develop as they play and discover new things; these abilities will serve them well throughout their lives as they pursue education, find employment, and engage in social activities with others.
It can benefit your child's development in various ways if you support them as they practice their skills. This will enable them to quickly absorb and practice the fundamental abilities they will use in everything they do.
Kids can benefit tremendously from participation in arts and crafts because it allows them to grow their skills in various developmental domains. They can explore their creative side through painting and building models. Additionally, using colorful beads to create jewelry and patterns helps them improve their planning and fine motor skills. Their social and communication skills can be aided by their participation in the activities mentioned above and by organizing arts and crafts activities they can do with their friends.
The following are the six primary developmental benefits preschooler can achieve by exercising and improving their most essential skills through crafting and beading.
Skills with the Hands
In almost all cases, arts and crafts offer young preschooler attractive opportunities to refine their fine motor skills and increase their manual dexterity. Improving these skills is a great way to increase independence and confidence because we use our hands in everything we do daily.
Preschoolers are encouraged to practice and hone their fine motor coordination skills by holding a paintbrush or pencil, cutting shapes, and threading beads because they all require it.
The larger objects easier for young preschooler to manipulate using the "three-jaw chuck grasp" are paintbrushes, think markers, modeling clay, and larger beads. Activities requiring more precise manipulation, like making bracelets or patterns with smaller dots, can help older kids develop their "pincer grasp."
Creativity
A child's imagination is greatly stimulated by art, craft, and beadwork, allowing them to explore and express their creativity however they like. As a result, they are inspired to consider their preferences and try out a variety of hues and materials.
Parents can help preschooler develop their language skills by encouraging them to speak and write in novel ways about their projects and by encouraging them to talk about their creative choices. Their learning to express themselves clearly—essential to how well they interact with others—involves learning new descriptive and expressive vocabulary. Not to mention the significance of solid vocabulary development in early writing abilities.
Cognitive Abilities
Making patterns out of beads, picking out beads for a bracelet, or choosing what to make for a craft project are all excellent projects for kids to work on their cognitive skills.
They use planning and problem-solving abilities that they will need later in life as they choose the materials to use, the design of their project, and the colors and patterns they prefer. PBS Parents reported that engaging in craft activities can improve a child's critical thinking abilities, essential for making wise decisions.
Social-communication abilities
Parents can aid in their child's development of critical social and communication skills by organizing craft projects that kids can do with their friends or siblings. Preschoolers can learn how to form bonds with others, deal with social situations, and express admiration for other people's work by practicing sharing resources with other kids and showing appreciation for their work.
They can improve their vocabulary and develop their ability to express themselves by discussing their projects with one another and stating which colors or patterns they prefer. Preschoolers who share ideas while crafting can learn to respect others' preferences and find new sources of inspiration and ideas for themselves.
Coordinating bilaterally
We practice bilateral coordination every day in almost everything we do. This is the act of using both hands at once to complete tasks. Most necessary tasks require both hands to move effectively and cooperatively, from tying shoelaces to opening objects to operating a computer.
For young preschooler, craft projects are the best way to give them some early practice with this since tasks like cutting paper with scissors, gluing objects together, and threading beads all require both hands. Parents can encourage kids to spend hours developing and perfecting this crucial skill by helping them find something enjoyable and engaging to do.
Visual-motor abilities
As kids learn to reproduce what they see on paper through projects that involve drawing or painting specific objects, they can develop their visual-motor skills. As their visual-motor skills are improved, this enables kids to develop other crucial abilities like handwriting further. These exercises can help kids improve their fine motor control by encouraging them to use their paintbrush or pencil more precisely so they can write or draw more clearly.
Both beading and crafting are fantastic ways to help kids develop the fundamental skills they need to succeed. These activities are unique in that they help kids become more capable in various domains. Child's fine motor skills are encouraged to develop using arts and crafts supplies like paintbrushes, crayons, beads, and modeling clay, enabling them to manipulate objects more precisely.
This helps them build muscle strength, manual dexterity, and bilateral coordination, which are necessary for boosting their independence and self-esteem. Preschoolers can also hone their problem-solving and decision-making abilities by organizing more complicated projects, such as slightly selecting patterns and colors for beaded jewelry. Talking about these projects helps kids expand their vocabulary and communication abilities.
Making various arts and crafts projects don't require much time or money, but cleanup time might be considerable. They are, therefore, excellent group-based exercises for preschooler. Most of the time, all that is needed to spark a child's creativity is a little set of vividly colored paints, a few charming beads on some thread, or some glue and cardboard. This encourages them to be creative and contributes to developing their skills.
What Are The Materials Used In Craft Making?
Crafting Essentials: Materials You Need to Get Started
The four most frequent types of crafts have their own distinct set of tools and materials.
Different supplies are needed for making items for the FASHION, TEXTILE, PAPER, and DECORATIVE CRAFTS industries.
Paper and other decorative crafts are the most common, so those are the ones for which the resources listed below are most appropriate.
Equipment for beginners, tools for kids, and the essentials
Preschoolers learn the fundamentals of paper and decorative craft making by creating hand prints, three-dimensional animals, and greeting cards for their parents.
Support is the foundation of any craft supply; this can be anything from paper to canvas to a mirror to an old door and serves as a blank slate upon which the artist can unleash their imagination. The next step is to apply the sealants, finishes, and finishes.
Craft tools, ranging from fingertips to the most expensive sponges and brushes, apply textural media and paints to the support.
Take a look at these three lists for the best crafting materials and tools:
This is the ultimate checklist of basic craft materials that every kid and newbie needs.
The equipment and supplies needed to take your craft to the next level. Unusual things for the home that you can make!
What You Need to Get Started in Crafting, Especially If You Have Kids
The most seasoned artists depend on them constantly.
Using this checklist, you can prioritize purchasing the most crucial base necessities before delving into the rest of our extensive product suggestions.
1. Paper: Different types of paper can add variety and interest to your crafting projects. Construction paper is versatile in various colors, while tissue paper can be used for delicate, translucent crafts. Cardstock is a thicker paper for making cards and other paper-based crafts. You can also consider patterned or textured paper to add visual interest.
Paint and Brushes: Painting is a fun, messy activity that kids love, and many options are available. Watercolor paint is a good choice for beginners because it is easy to clean up and requires no special equipment. Acrylic paint is more durable and versatile but can be more challenging to clean up. You'll also need brushes in different sizes to apply the paint. Flat brushes are suitable for large areas, while round brushes are better for details. You can also consider foam brushes, which are cheap and disposable.
2. Scissors: A good pair of scissors is necessary for any crafting project. When choosing scissors for kids, safety should be the top priority. Look for scissors that have blunt tips and are designed for small hands. For older preschooler, you can consider scissors with more pointed tips for cutting through thicker materials like fabric or cardboard. Scissors should also be comfortable and have an excellent grip to prevent slipping. Some scissors have ergonomic handles that can help reduce hand fatigue during long crafting sessions.
When it comes to the type of scissors, there are many options available. Straight-edge scissors are the most common for cutting paper, fabric, and other materials. Pinking shears have a zigzag edge that prevents fraying, making them ideal for fabric projects. Scalloped-edge scissors have a curved edge that creates a decorative edge on paper and other materials. It's a good idea to have a variety of scissors on hand for different crafting projects.
3. Glue: Glue is another essential item for crafting projects. Many types of glue are available, each with its strengths and weaknesses. White glue is a popular option for paper-based crafts and can attach paper, cardboard, and other lightweight materials. It dries clear and is easy to clean up with water. Glue sticks are another option for paper crafts and are convenient and mess-free. They are a good choice for younger preschooler struggling with liquid glue.
Tacky glue is a more robust, thicker glue ideal for heavier materials like felt, foam, and wood. It dries clearly and has a strong bond, making it a popular choice for more advanced crafting projects. Hot glue is another option for more advanced projects and is ideal for bonding materials like plastic, metal, and fabric. It quickly dries and forms a strong bond, but it can be difficult to remove if mistakes are made.
When choosing glue for crafting, consider the type of materials you will be using and the age of your preschooler. Choose a safe, easy-to-use, and appropriate bond for the task.
4. Craft Kits: Craft kits are a great way to get started with crafting, especially if you have kids. These kits typically contain all the materials and instructions you need to complete a specific project. They are convenient and can save you time and money compared to buying all the materials separately. Additionally, they can be an excellent way to introduce kids to new crafting techniques and materials.
Craft kits come in various themes and styles, so you can find one that fits your interests and skill level. For example, you can discover jewelry-making kits, painting, sewing, and more. Some kits are designed for preschooler, while others are geared toward adults.
Consider your preschooler's age and skill level when choosing a craft kit. Some equipment may be too advanced for younger preschooler, while others may be too simplistic for older preschooler. Look for labeled kits with the appropriate age range and skill level. Additionally, consider the materials included in the kit. Please make sure they are safe and suitable for
5. Paint and Brushes: Painting is a beautiful way for preschooler and adults to express themselves creatively. You can create various artwork with paint and brushes, from simple finger painting to more complex pieces. Acrylic paints are popular for beginners, as they dry quickly and can be easily cleaned with soap and water. They also come in various colors, making creating the perfect shade for your project easy.
When choosing brushes, it's essential to consider the type of paint you'll be using and the type of strokes you want to create. Brushes come in different shapes and sizes, each with its unique purpose. For example, a flat brush is good for creating straight lines, while a round brush is ideal for blending colors and creating softer, more rounded shapes. Experiment with different brushes to find the ones that work best for you and your project.
Other Materials:
You can use regular, corrugated card stock or anything in between.
Erasing marks made with a soft pencil is a breeze.
The humble eraser: underappreciated until desperately needed.
Razor blade sharpener: another often-forgotten tool
Sticky or masking tape: To secure products while working, something you learn after a wet (glued or painted) object lands on its face on the floor.
My go-to mediums are acrylic and watercolor. Paint pens are an excellent tool for creating rock art.
Color Mediums – Use whatever you like best: crayons, colored pencils, pastels, etc.
There are both large paper shears and small sewing shears available. Without a cutting mat and a craft knife, I use this to make incredibly exact cuts in paper crafts (albeit I don't embroider).
Dual-ended markers are great for various creative projects, including coloring, sketching, blending, and calligraphy. The set we recommend (link at the top of page) comes in 60 beautiful colors and is a delight.
I prefer a hand-held, one-hole paper punch because I can see where you will make the hole. I use it to make holes for ribbon or baker's twine to secure my handmade bags and boxes and print off party hats and masks for celebrations.
A self-healing cutting mat is indispensable for everyone who misses a utility knife or rotary cutter. An excellent craft knife can last for quite some time and can cut patterns that are difficult to reach with regular scissors.
Both short and long rulers are at your disposal. My trusty 12-inch steel ruler is nearly as old as the mountains, but it works fine today. They are getting a steel ruler, which can't be denied. When using a craft knife, the added heft is very helpful for keeping paper in place.
I was using a bone scorer to create scored fold lines before folding will give your projects a polished, finished look. I always use my whenever I do anything from greeting cards to thank you notes to packaging.
Combination of 2 Circle Punches "Cupcake toppers, card making, general round cuts, and tags are just a few of the many uses for a circle punch (inches). As a bonus, I also own a.75 ". For the holiday season, I like to decorate Hershey Kisses by punching circles out of pretty paper and gluing them on. They are packaged in lovely organza packets for handouts or stockings.
Clearing up accidents and making minor modifications with a kitchen paper roll, facial tissues, or cotton swabs is easy.
How Do You Craft With Toddlers?
Get Creative with Your Little Ones: Crafting with Toddlers
Keeping toddlers occupied is challenging but rewarding work, so before we show you our crafts for preschooler three and older, we want to congratulate all parents on a job well done. You have all been performing exceptionally well. Let's jump right into the fun part, which will be the crafts that your preschooler 2 or 3 years old can do. Toddlers can develop their motor skills and learn new wordslesson plans by participating in various craft activities, such as painting, building, and making crafts in general. There are a lot of advantages to playing in the mud with your toddlers, and it's also a fun way for you all to spend time together. It is essential to pick out crafts that are appropriate for toddlers and are designed with them in mind. A significant number of craft kits and boxes contain pieces so small that they present a choking hazard. As a result, we felt it necessary to compile this list of toddler activities that are entertaining and instructive. Adults and young preschooler have tried out every single one of the activities described in this blog post. Additionally, many of the activities listed below don't cost much money and use things you probably already have, such as pipe cleaners.
We've also compiled a list of craft ideas for preschooler and a checklist for adolescents so that you can find something fun to do with the whole family during the summertime. For the time being, however, some crafts for toddlers will help feed your child's creative side and innate curiosity.
Crafts for kids ages 2 and 3
Playdough
Crafting with playdough is fun for toddlers because it is easy for their little hands to manipulate and mould into different forms. You can make your playdough for your young preschooler to play with by following the instructions provided in The Imagination Tree. Because it is made of natural materials, it is perfectly fine to consume, even if a child accidentally consumes it.
Mosaic
Making mosaic crafts with a child as young as three is a breeze with the help of this mosaic kit. Colouring is more manageable than this activity, which will put your toddler's ability to organize objects by colour and match colours to one another to the test. More than four hundred sticky foam pads, a less hazardous alternative to glue, are provided for them to use in their creative endeavours, along with six different colourful characters they can decorate.
Flowers in an egg box
Every parent's dream is to find inexpensive and suitable activities for toddlers. Egg carton flowers from I Hearts and Crafts are an easy, affordable, and entertaining way to make something cute with things you probably already have lying around the house. They can make an Easter card for their grandparents using the flowers that they have made and give it to them at that time.
Crafting materials for drawing and sewing
Your child will have a lot of fun colouring in these adorable woodland animals, and if you keep a close eye on them, you can even teach them how to sew if you want to. It comes with a plastic needle, colourful thread, and pens, and you get to pick the woodland creature that you would like to make. Because it encourages them to work with their hands, this is an excellent activity for preschooler aged three who are still developing those skills.
Suncatcher
Kids can learn how to glue and stick with the help of our step-by-step guide to making sun catchers. It's fun for younger kids; you can even do it inside if it's pouring outside. We also provide a video tutorial for this DIY project.
Finger Painting
Painting is an excellent activity for toddlers because it helps them develop their hand-eye coordination, which is essential when they pick up pens and pencils. They will get their hands dirty and use their fingers with this painting kit.
Stamps
Crafting with stamps is a time-honoured tradition that young preschooler will enjoy. You can find stamp kits for sale on virtually every website on the internet, or you can make your own using the guide provided by Mollie Makes on how to create a rubber stamp. You can teach your preschooler how to stamp by decorating used rubbers to look like animals that are important to them.
Creating prints from flowers
Another craft toddlers can participate in can be made with simple things. On their website, Learning 4 Kids explains the benefits of flower printing, but our favourite thing about it is that it is such a straightforward activity that requires very few supplies.
Fingerprint Glass Magnets
Kids' artwork taking up too much room on the refrigerator door? Here's a pretty exciting technique for keeping artwork on the refrigerator without taking up much space.
Fingerprint Glass Magnets! These are lovely methods to preserve and create memories of your child's early artistic endeavours.
These refrigerator magnets require magnets and huge glass cabochons, among other materials.
Rainbow Craft
preschooler quickly learn colours in addition to the ABCs. Choosing the appropriate tool to teach your preschooler about different colours would be best. Most early childhood educators begin with a rainbow.
As a result, we have created a cute rainbow project that can be used as both a game and a lesson on colours.
You'll need marshmallows, cardboard, glue, a black pen, and these materials to make this rainbow. You can also purchase food colouring to make the kids' painting more appealing.
Draw your rainbow lines on your cardboard and cut out an arch shape. Now, assist your young child in placing the marshmallows—each colour at a time—between the indicated lines. This is an enjoyable exercise that requires minimal supervision.
Fish Craft
Every DIY craft project has the potential to be the ideal vehicle for instructing our preschooler about the functioning of the undersea world. For instance, this fish artwork is excellent for demonstrating to students how fish breathe underwater and what they eat while living in the water.
You can make it a summer or a reasonably simple class project at home. Popsicle sticks, which you can get here, some vibrant felt sheets, and craft glue are required materials.
With your popsicle sticks, form a triangle, and then adhere your felt fish after cutting it to the same size and shape. Fins, a tail, a mouth, and gills are just a few elements you might include.
If the felt is not available, you can also use sheets of colourful paper.
Tissue Paper Apple
We love tissue paper crafts for a variety of reasons. Because tissues constitute the main component, they are pretty inexpensive. There are a lot of rolls in one. You can make pretty much anything with this tissue craft, but we'll start with an apple.
Either purchase pre-coloured tissue paper or paint with your young preschooler. Given that it is less messy, we advise using coloured tissue paper. Tear your tissue into little pieces, and glue them on the already-drawn apple with your child's assistance.
Salt dough
One of the nicest doughs for kids is salt dough. You can use this dough to create ornaments or small toys for your kids, among other things.
You'll need salt, flour, and water to make the dough. Add acrylic colour to the dough to make it more appealing and intriguing for preschooler.
You will want a few supplies, such as cookie cutters, rolling pins, and baking sheets, to make fun ornaments.
Solar Catcher
A suncatcher is a great activity to do with young preschooler. Enjoy the hues reflecting in the light by hanging them near windows with the most sunlight.
To construct this adorable suncatcher, all you need is some Styrofoam plates, contact paper, and tissues.
Cut a heart-shaped hole in your plate, adhere the contact paper there, and then arrange the coloured tissue to resemble a heart. When you are satisfied with the density of your heart, attach another piece of contact paper to it to hold the tissue in place.
Easter Egg Craft with Pasta
Easter egg decorating is famous, although painting the eggs earlier in the year is preferable. Kids who are missing Easter eggs will love making these spaghetti eggs.
Finding all the necessary things in your home is the finest part if your supply of construction paper could be higher.
When you have everything you need, design an egg on the construction paper, give your kids some glue and some pasta that has been painted, and then let them choose their favourite patterns.
Burnt-Crayon Art
Toddlers of all ages like DIY projects that involve hands-on activities. This is one of those tasks that young preschooler can complete without adult assistance.
A little direction can go a long way. When they have a tidy mound of shavings, assist your child in sharpening the crayons. You can begin creating your picture once you have an excellent collection of various colours.
Either let the preschooler draw the picture themselves or draw one for them to fill in with the crayon shavings.
The enjoyable part now is letting the paintings dissolve in the sun. Your preschooler will enjoy checking on their images every five minutes to see how far they have melted.
This is the finest project to occupy preschooler while mothers complete their tasks.
Why Is Creativity So Essential?
Imagination is a prerequisite for creativity and vice versa. Problem-solving, unconventional thinking, and the capacity to immerse oneself in various interests, such as art, literature, and film, depend on imagination. You can expand your imagination through artistic thought and creative expression.
Creative preschooler can better understand who they are. preschooler's creative expression helps them understand their inner thoughts, emotions, and likes and dislikes. Creativity is a basic form of self-expression.
Creativity is an essential method of self-expression in addition to aiding in self-understanding!
Problem-solving skills, which depend on the creativity, are fundamental skills that can help people overcome various obstacles and challenges.
Resilience is enhanced by creativity! We can overcome obstacles and solve problems by viewing them from various angles, thanks to our ability to think creatively.
Why Are Arts And Crafts Important?
Early on, arts and crafts are crucial because they promote mental and physical growth. Some people even contend that doing it so often at school is the best approach to aid preschooler ages 3 to 8 in growing and developing.
Painting, drawing, cutting and sticking, and moulding are all examples of arts and crafts that aid in developing physical skills like agility and coordination. Play-Doh all contribute to developing these fundamental abilities, which will later help acquire new skills.
Similar to physical growth, arts and crafts aid in mental development by fostering, among other things, communication, social skills, reading and numeracy, confidence and self-esteem, and creativity. Again, these abilities are crucial on their own, but acquiring them at a young age allows preschooler to use them as they grow and develop other skills.
How Do Arts And Crafts Contribute To A Child's Growth?
Arts & crafts aid in developing a child's essential skills, which they will utilize to gain other talents as they age and throughout their lives.
1. Enhanced Focus
All sorts of arts and crafts demand concentration and persistence. This is necessary for cognitive growth and more formal study when they get older.
2. Improved Bilateral Coordination
Bilateral coordination is the capacity to use both sides of the brain concurrently. preschooler who struggle with synchronizing both sides of their brain suffer trouble accomplishing daily tasks like tying their shoes, performing motor activities like stringing beads, and carrying out visual motor skills such as writing. Arts and crafts help youngsters to develop this talent early, which is necessary for general life.
3. Visual Education
Arts and crafts help to build visual learning in young preschooler, including spatial awareness and relations, which augments their core graphic analytical skills. This educates pupils on interpretation and criticism, demonstrating how to make decisions based on visual information outside the classroom.
4. Problem Solving
When youngsters draw, paint, or sculpt, they have to choose the proper position to put the various elements of their creations. Individuals must utilize their cognitive, problem-solving, and decision-making abilities. Even for adults, figuring out how to cope with errors as they occur is a challenging ability you can learn through arts and crafts activities.
What Are The Best Crafts For Kids?
Keep Your Kids Entertained: 5 Fun and Easy Crafts for All Ages
As a parent, you constantly seek methods to foster your child's creativity. When it comes to do-it-yourself activities for preschooler, homemade crafts, games, and learning projects are excellent options. And as the weather warms up, outdoor games and indoor activities can only keep kids occupied for so long. Try one of these kid-friendly projects if you're seeking additional ways to entertain your preschooler.
These activities are ideal for various ages, from curious toddlers to older youngsters. Some demand more time and effort, but others require little more than paint and paper plates. We offer a collection of recycled crafts, summer crafts, and seasonal projects you may do with your child. From toilet paper frogs, kids can hop about the garden with crunchy slime they won't stop pulling. These do-it-yourself projects will keep everyone entertained and free of boredom (even your 1-year-old will want to join in).
1. Flower Paper
They will delight in creating these vibrant paper flowers to adorn their beds. They will first cut out petal and fringe forms from folded, coloured cupcake liners. Ask them to twist the artificial flower stamen with a piece of floral wire that has been folded in half. Three to four paper liners should have their centres punctured by the wire. Finish it off by bringing the floral tape down the stem and wrapping it around the base of the liner.
2. Floral Water Bottles
They will need straws, construction paper, and pom poms to create colourful flowers out of their used water bottles.
3. Cardboard Suns
Celebrate the arrival of warm weather by scattering big and small cardboard suns in the backyard.
4. Pottery Bowl
Make a lovely bowl for your centre table with your preschooler using clay and paint. Having some simple oven-baked clay and watercolours on hand would be helpful for this craft project. Give your kid-free rein to use their creativity to fashion a clay bowl they can colour brightly.
5. Bouquet of pompoms
Nothing is more enjoyable than crafting pompoms. Gather colourful yarn, people, needles, scissors, and ribbons to make this craft.
You can make folk into a pompom by wrapping three inches of yarn around them, tying it in the middle, and cutting the edges. Create several vibrant pompoms, then tie them together with a needle to create a bouquet.
6. Dough Forms
This child's craft is instructive and soothing for grownups. You only need flour, water, and salt to make this craft.
Your child's hand and finger muscles will grow stronger as they shape the dough into various forms. Additionally, you can instruct them on different geometric and animal shapes while having fun with dough.
7. Foldable Chatterbox
A fun craft for youngsters is an origami chatterbox. It is the most straightforward project that requires paper that is A4 in size, scissors, and a pencil.
Using the paper, make a triangle and trim the redundant edges. Fold the opposing corners of the triangle together after opening it. Reopen it to fold the square's points into the middle. To predict your child's destiny, flip the fortune teller in half and slide your finger and thumb under the flaps. Using a pencil, you may make amusing predictions on each flap.
8. Windsock Monsters
Kids can work together on this activity and have a lot of fun, especially if Halloween is their favourite holiday. Fortunately, monsters are year-round.
9. Cone-shaped Ferris Wheel
Using popsicle sticks and wooden blocks, bring a well-liked amusement park attraction to their room (or a scaled-down version).
10. Collage of Hearts
Kids can construct their heart collages using any supplies you have in your art bin other than cardboard, scissors, and glue (from glitter hearts and felt to buttons, beads, and ribbons)
11. Ice cream on a paper plate
Is ice cream their preferred sweet treat? If that's the case, making their own out of paper plates might satiate their sweet tooth. They can also create as many scoops as they like.
12. Self-made Sticker Book
Does anyone enjoy cool stickers? Give your child some sketch pens, scissors, glue sticks, and an unlined notebook, and let them make their sticker book by cutting out various stickers and pasting them in. You can also purchase stickers featuring multiple characters from their favourite books and movies to keep your kids interested.
13. Number Stick
This craft will teach your kids numbers in a fun way if they are still learning to count. To make this craft, you'll need glitter and popsicle sticks.
Use glitter to draw circles on popsicle sticks to teach your preschooler how to count rings and tell a number. It is a clever and enjoyable approach to teaching counting to young preschooler.
14. Jug of milk Watering Can
This easy craft project might support your goal of having your preschooler take an interest in gardening. You must grab a waste milk bottle from the garbage and prick a few holes in the bottle's cap. Ask your toddler to water the plants in your backyard after you've filled the bottle with water.
15. Garden Pinwheels
Another craft that will help kids get in touch with nature is this one. Make pinwheels out of the old drawings that your preschooler have made.
You must assist your child with folding a piece of paper in half from all four sides to create pinwheels. Take the paper's edges and, using the pin, fix them in the middle; then, using glue, attach the pinwheel to a stick and set it in your garden.
16. Using old cars or trains as canvas
This craft project is quite messy and enjoyable. Make your preschooler wear old clothes to start so they may have plenty of fun with colours.
On the ground, spread out a large piece of paper. Put some watercolours on a tray, and have your child dip an old toy car or train in the paint to let it run on the form. Your entire family will have a blast racing cars and making abstract art if you can put the mess aside for a second.
17. Card Hand-Stitched
Cardmaking is an everyday activity among preschooler. However, you can add some flair by hand-stitching. Have your preschooler cut out a flower or an animal from paper to make a card.
Use a small hole punch to create holes in the paper's border. Use yarn or embroidery floss to mend holes. You can also adorn your card with vintage buttons.
18. Dream catchers made out of paper plates
This is another craft involving paper plates for preschooler. Assist your preschooler with removing the middle of the paper plate and replacing it with yarn crisscrosses. Attach feathers to the bottom of the dream catchers. Additionally, they may use colour and beads to embellish the dream catcher.
19. Recolor Old T-Shirts
If your preschooler are old enough to handle fabric colours, give them your old T-shirts and let them be creative. However, take your preschooler outside for this activity to protect your expensive furniture.
20. Salt Painting
Salt, watercolours, and paper are all you need to create a salt painting. Your preschooler can create a unique salt painting at home by mixing salt and watercolours. After your preschooler have completed the painting, place it in direct sunshine for the water to evaporate and create a unique gritty texture.
BENEFITS OF CRAFTS FOR KIDS
Crafts for preschooler play a significant part in developing their critical thinking and social skills at school and play.
Here are some of their advantages:
The practice of arts and crafts improves a child's motor skills. How they hold pencils, crayons, tools, markers, and paintbrushes helps them button their clothes and improve their handwriting later in life. The coordination of both hands, such as when one hand holds a piece of paper while the other uses scissors to cut, can offer preschooler an edge when they are older, similar to typing. By utilizing abilities such as hand-eye coordination, their concentration also improves tremendously.
They hone the cognitive talents of a child. When toddlers learn to glue and paste pieces on a confined surface, it teaches them the space between objects. Preschoolers develop problem-solving and adaptability skills by combining paints to create new hues. Understanding patience, tolerance, and self-control enable them to handle their emotions better. When youngsters see the fruits of their labour, their self-esteem and productivity increase.
Permit you to utilize planning and problem-solving skills. Preschoolers rely on imagination and adaptability when undertaking unstructured and undirected creative endeavours to develop a final product. This helps kids explore their surroundings, build creativity, and understand themselves more deeply.
Art and craft enhance language development. Preschoolers can learn new vocabulary, colours, forms, and motions when they discuss art. When they view different styles and pieces of art, they begin to use language to describe their work, debate their creations, and articulate their emotions.
They permit visual learning. Nowadays, even toddlers may use a smartphone or tablet, allowing them to navigate graphics before learning to read. Drawing, clay play, and beading teach preschooler that the universe comprises more than just numbers and words. In a world packed with marketing logos, they strive to analyze, critique and apply visual information to make choices and judgments later in life as savvy consumers.
Child's arts and crafts increase their academic performance. There is a clear relationship between the arts and academics. Multiple times each week, preschooler who take art lessons are more likely to receive literary recognition, participate in science or math fairs, and win awards for poetry and essay writing.
HOW PARENTS CAN INSPIRE CHILD'S LOVE OF ARTS AND CRAFTS
Parents significantly impact their child's lives and can foster their appreciation for the arts. Here are some strategies for doing so:
Parents can introduce their preschooler to the arts by incorporating them into some of their activities. Bring your preschooler along if you enjoy listening to music and visiting museums. This will help preschooler develop an appreciation for the arts by exposing them to an entirely new universe. Try collaborating with them on a fun project to encourage them further.
In addition to purchasing toys or books for your child, give them play and creative materials. However, if they are still young, keep them from overwhelming them with too many ideas!
These days, parents enrol their preschooler in various classes outside of school. To assist preschooler in developing a passion for painting, provide them with room and time to explore multiple creative outlets. Be accommodating and accommodating by allowing preschooler to express themselves via arts and crafts.
Asking your preschooler open-ended questions can allow their imaginations to flourish. Instead of engaging in a structured question-and-answer session, encourage your child to think freely. On your next excursion to the craft store, inquire about their preferred textures and materials and the types of products they want to employ.
Using arts and crafts, parents can teach their preschooler to solve difficulties. The trick is to be as inventive as possible when faced with a problem. This makes the activity more enjoyable, and you may be amazed by the number of possible solutions and suggestions your youngster generates.
What Are Some Easy Craft Ideas?
Make It and Love It: Easy Craft Projects That You'll Adore
When you are a parent, one of your primary goals is to encourage your child's creative development by providing them with as many possibilities as possible. Regarding do-it-yourself activities for preschooler, some excellent options include games, crafts, and educational projects they may complete at home. And as the temperature outside rises, activities in the backyard and inside the house may only keep preschooler occupied for a limited time. Try one of these simple activities preschooler can do on their own if you're seeking additional entertaining ways to entertain your kids.
These are some great activities that may be done with preschooler of varying ages, from naturally inquisitive babies to adolescents. While some need more time and effort, others are as easy as grabbing paint and paper plates. Crafts made from recyclable materials, summer activities, and crafts you and your child may work on together throughout the season are all included in this collection that we share with you today. These do-it-yourself projects will keep everyone entertained and away from boredom. From toilet paper frogs that can hop around within the backyard to crunchy slime that they won't want to stop pulling, there is sure to be something for everyone, and even your 1-year-old will want to join in.
THE BENEFITS OF CRAFTING ACTIVITIES FOR KIDS
Improves Motor Skills
Kids can strengthen their motor skills, which are necessary for the body's muscles to move, by making things with their hands. Give kids a chance to develop their motor skills more quickly by letting them engage in activities they enjoy and don't feel like chores, such as arts and crafts. Hand-eye coordination and muscle memory are developed through painting, origami, drawing, and other hobbies. Additionally, it has been demonstrated that they speed up kids' learning of self-care abilities like feeding, bathing, and more.
Enhancing Coordination
Preschoolers must use their hands in specific ways when creating art and crafts. You can improve a child's ability to perform tasks like tying shoes with simple exercises like utilizing scissors. Child's fine motor abilities are enhanced when they create art with their hands. Additionally, kids get more coordinated and can efficiently use both hands simultaneously.
Enhances Critical Thinking
Cognitive development, which is crucial for a child since it helps with their theoretical and practical skills, includes problem-solving abilities and critical thinking. Preschoolers can make their own decisions and assess them through arts and crafts, allowing them to think creatively and generate unlimited possibilities for creation, thought, application, and change.
For a youngster, improving literacy and academic performance is crucial since it enables them to acquire abstract and concrete concepts like cause and effect. Additionally, art enhances concentration, encourages critical thinking abilities, helps with visual learning, and raises a child's IQ compared to those not exposed to it.
Enhances Academic Results
The value of art and crafts also impacts academic excellence. Contrary to popular belief, arts and crafts have been shown to raise IQ levels by improving child's focus, reasoning abilities, visual learning, and other skills. Additionally, arts and crafts are an excellent aid for sensory education, especially for kids with ADHD, dyslexia, or other illnesses of a similar nature.
Improves Child's Literacy Abilities
In terms of language or literacy ability, it's normal for young preschooler to have difficulties speaking English. And this disadvantage of being unable to express themselves or tell others what they want impacts learning and frequently affects the development of their character as well. Arts and crafts, therefore, aid in their ability to express themselves. Additionally, hearing others describe their work aids in language development, aids in the acquisition of new vocabulary and comprehension techniques, and improves speaking, reading, and writing.
Enhances Creativity
The arts stimulate creativity, a vital quality since it enables people to bring their imaginations to reality. This is not just limited to sketching; notable individuals who changed the course of history could only do so by bringing their crazy ideas to reality through prolific creation and fantastic discovery. Creative preschooler are also more productive and can better identify their vocation and develop it into a successful career. This quality is essential in all spheres of life, including social, professional, and personal.
Self-Esteem
Through participating in art and craft activities, preschooler can feel satisfaction in their work and a sense of success, which in turn helps them feel more confident. Learning that it is acceptable to make errors and that doing things "wrong" can produce wholly fresh thought can be accomplished in a fun and risk-free manner by engaging in the creative process of making art. Preschoolers learn "self-regulation abilities" while simultaneously expanding their horizons and experiencing new things (e.g., when waiting for paint or glue to dry). They develop the virtue of patience, a trait that is difficult to instil in preschooler. Even I have my moments of weakness!
HERE ARE SOME FUN AND EASY PRESCHOOL CRAFTS USING ART SUPPLIES
Egg Carton Critters
Preschoolers can easily repurpose egg cartons into various creatures and insects, including turtles, caterpillars, and frogs. They will begin by painting the cartons, adding embellishments such as googly eyes, pom poms for turtle heads, pipe cleaners for caterpillar antennae, and green craft foam for frog legs.
Paper Bag Monster Puppets
In this activity, preschoolers upcycle brown paper lunch bags into grotesque creations with unique characteristics. They begin by painting the bags a colour of their choosing. The finishing touches will be made with card stock after it dries. Consider the following: horns, tongues, ears, and fangs.
Pop Bottle Firefly
Garden parties with glow sticks in recycled bottles are the stuff of childhood dreams. The foam wings, pipe cleaner legs, antennae, and a set of googly eyes make for a happy little firefly body that preschoolers can help create.
Paper Plate Fish Craft
Preschoolers will decorate a paper plate as the foundation for their fish craft. After the glue has had time to dry, they will attach folded circles of craft paper to serve as colourful scales. The look is finished off with glitter and googly eyes.
Jellyfish Salt Painting Activity
Make a jellyfish, or whatever you choose, out of white glue on a piece of card stock. Then sprinkle some salt on it with your toddler or preschooler. After drying, shake off any remaining salt. Create a textured work of art full of vivid colour using food colouring or liquid watercolours.
Paper Plate Rainbow
Preschoolers can create a rainbow by putting scraps of colourful paper on a paper plate, which serves as the base for the project. This adorable and straightforward craft is finished off with cotton ball clouds.
Paper Towel Butterflies
The only things you will need to make a swarm of butterflies are regular white paper towels, food colouring, and pipe cleaners. Repeatedly folding the towel into a square shape produces the final product. After dipping the parts in bowls containing food colours, spread them open so they can dry and cinch them with pipe cleaner antennas.
Washi Tape Paper Plates
This activity is suitable for preschooler of any age and adults, so bring the whole family along. You can decorate the plates in whatever way the kids prefer by covering them with washi tape. The selection of colours and patterns allows older preschooler to create more sophisticated appearances. You can use Mod Podge to make a finished tray or wall hanging when applied to the surface.
Clothespin Dragonflies
Collect some clothespins in a pile. Allow the preschooler to paint vertical stripes on each pin, serving as the dragonfly's body. Put a few glue dots on the front, then attach the googly eyes. Pipe cleaners can construct colourful wings by being bent in the middle and then having their edges twisted.
Pom Pom Flower Craft
Preschoolers in preschool will have a great time adhering the pom-poms to this colourful flower craft. Attaching a magnet to the back will allow you to display them on the refrigerator. You can create a perfect keepsake by inserting a picture of the child in the middle of the paper.
Mason Jar Banks
It is never too early to educate preschooler about money, including what it means to work, spend, save, and share money with others. Make learning entertaining by having students complete this bank project. Mason jars, coin slot lids, and any embellishments you already have on hand are all required for this project.
Paper Roll Dragon Craft
Using pom-poms, googly eyes, and colourful construction paper, you can transform paper rolls into dragon faces with significant personalities. To make it look like the fire is breathing out of it, add some strips of coloured tissue paper.
Craft Stick Octopus
Craft sticks should be arranged in an asterisk and secured with glue. Glue some craft paper on the top and use googly eyes to make a face. You should add beads along the length of each stick to simulate suckers on arms. It would be best if you made a couple of these and then glued them onto a blue background to resemble an underwater habitat for your octopi.
Tie Dye Art with Baby Wipes
If you thought that tie-dying was a messy project that would leave your hands stained, you could not be more wrong. Paper towels, rubber bands, washable markers or liquid watercolours, and baby wipes are included in this edition, which you almost certainly already have. The most exciting part? It may all be cleaned in the washing machine.
Melted Bead Sun Catchers
You can use cake or muffin pans to arrange the beads in a single layer. You may build sun catchers that are durable and long-lasting by melting them in the toaster or on the outside barbecue (unlike versions made from paper).
What Can A 5 Year Old Do In Art?
Exploring Art at Age 5: Inspiring Ideas for Young Creatives
During preschool, many kids improve significantly in how creative they can be with art. Preschool providers can help kids become more creative by planning art activities that help preschoolers learn new skills.
In their early fives, preschooler explore how to add detail to their drawings of familiar objects and scenes. The figures wear clothes and have facial expressions. The sky and the ground may be completely distinct from one another. Kids this age can easily replicate basic geometric shapes (triangles, squares) and even start to print some letters and numbers. They're also better at handling the equipment they use for making art (pencils, markers, brushes, scissors).
Preschoolers, especially those around the age of five, are naturally curious. Their art reflects who they are and what they have been through. They like to use their artwork as a jumping-off point for narratives. Self-portraits, members of the artist's family and pets, and the artist's home and vehicle are also popular choices. Engage them in conversation about the inspiration and method behind their work. Ensure your kid has easy access to various art supplies and encourage them to try new mediums.
Art is a natural thing for kids to do that helps them play freely. The freedom to play with different materials in a natural, unplanned way makes it possible to explore and try out new things. These creative projects and self-guided explorations are fun and teach you something. Art gives young kids a chance to work on a wide range of valuable skills in life and learning.
When kids do art activities, they practice the following skills:
Fine Motor Skills: Child's fine motor skills improve using pencils, crayons, chalk, and paintbrushes. Because of this growth, your child will write, button a coat, and do other things that require controlled movements better.
Cognitive Development: Art can help kids learn and practice skills like recognizing patterns and understanding what happens when they do something (e.g., "If I press hard on a crayon, the color gets darker"). They can also practice critical thinking by making a plan or picture in their minds of what they want to make and then doing it.
Math Skills: Preschoolers can learn, make, and understand things like size, and shape, make comparisons, count, and use spatial reasoning.
Language Skills: When kids talk about their art and how they made it, they improve their language skills. You can help this happen by listening carefully and asking them open-ended questions. It's also an excellent chance for them to learn new words related to their project (i.e., texture).
Free expression is good for everyone's health and well-being and helps young people learn essential skills. Giving your child a way to be creative can help them deal with stress and work through problems. By letting people express themselves through art, you can help people learn.
Have a discussion with your kid about the work they've been doing. Even if the youngster knows precisely what it is, a child's drawings are frequently difficult to understand for adults. The question "What is it?" implies that the object in question should resemble something we are already familiar with. Instead, offer open-ended inquiries like "Tell me about your picture." You can also describe specific things your child is doing by stating, "You're forming small lines, and I see you are using red, green, and blue." Other examples include. You can also explain the activities your child is taking or their materials by stating, "You are using a soft paintbrush. I observed you are painting small circles. You are using two crayons at the same time!"
Imitate your youngster as much as possible
Instead of painting your picture, sit down with your child and copy the actions that they are performing. Practice drawing large or small shapes by drawing circles, scribbles, or little lines. It is less likely that your child will be innovative and creative on their own if they focus on what you are drawing or how "excellent" your painting is.
Provide choices.
You should provide your child with a wide variety of supplies, such as paint, coloured pencils, chalk, play dough, markers, crayons, oil pastels, scissors, and stamps. To spice things up, unexpected elements like Q-tips, dinosaurs, dried noodles, or it can bring beans into the mix.
Assist rather than take the lead.
Have you ever observed that when other people determine the terms of an activity, it reduces the amount of fun you get out of it? The same rule applies to preschooler; you should defer to their judgment regarding the kinds of materials, as well as when and how to use them. Instead of writing with the crayon's point, they may prefer to peel the paper off it and use it on the form in a longitudinal fashion.
Keep it open-ended.
Allow your child to explore, experiment, and utilize their imagination rather than sitting down to do a particular task or reach a predetermined goal. This is a normal part of the creative process; for example, they could make a huge mess or change their minds multiple times.
Pay attention to the process, not the result.
Your child will be better able to work with intrinsic motivation if you encourage them to participate in unstructured art activities. It teaches preschooler to express themselves freely and not worry about what other people think of what they say. A youngster may be more likely to do things to win your approval rather than doing what they want to do if a lot of attention is given to the final product or if we spend a lot of energy praising the outcome. This is because both of these things draw a lot of focus. Focusing on the process means encouraging effort, which is an integral part of the process. Exploration and action are more significant than the final output. Take note of the effort they have put in!
Let it go.
Allow a child to explore as long as they are not putting themselves in danger (for example, by running with scissors). They may spend most of their time sharpening coloured pencils rather than drawing with them. Preschoolers gain knowledge through playing, exploring, and making mistakes. When we provide kids with the freedom to explore, they can learn how to create and experiment in fresh and original ways.
Simple Ways to Explore the Arts with Your Child
Find Inspiration in Nature
Encourage your child to bring an art journal with them whenever they go out for a stroll, whether in the neighbourhood or on a hike, because you never know when they'll have an idea. Instruct your child to look at him and draw what he sees on paper. Bring pebbles home to paint, leaves and flowers to make rubbings, and any other things you need to make a collage.
Explore Texture Through Rubbings
Make rubbings on paper by scribbling with the eraser end of a pencil or crayon. While out in the woods, try rubbing different tree bark with your fingers or rubbing a piece of paper against other natural materials like leaves, coins, sandpaper, screen, etc.
Read Books About Art and Artists
Try to find some books on famous painters and their works. Preschoolers significantly benefit from being exposed to artwork created by artists who share their cultural backgrounds. Seek out art exhibits that showcase artists who look like your child and ask your child's public or school librarian for recommendations of picture books that highlight the work of or are about artists who reflect your child's ethnicity or culture.
Trash to Treasure
Your youngster can construct an "upcycled" collage or sculpture using old magazines, newspapers, mail, artwork, maps, catalogues, wrapping paper and cards, music CDs, old comic books, and other materials.
Printmaking with Everyday Objects
You can make one-of-a-kind prints by dipping commonplace objects into paint that you can wash off. You should spread out the colour on a tray. Materials could include bottle caps, corks, pieces of wood, fruit and vegetable slices, cardboard cut into pieces, and anything else in the recycle bin.
Create Temporary Art Installations
Make artwork from the environment while you're outside. Construct sculptures, plan the layout of a settlement, or make a home for fairies out of natural materials like twigs, rocks, and leaves. Make patterns and sculpt the sand or soil into different textures. Create works of art out of stone by piling rocks or carving them into human faces. Take a picture of your kid's masterpiece, and then put it somewhere else for another creature (maybe a chipmunk or a mouse) to find. After the game, your constructions should be allowed to revert to their original form, just like sandcastles.
Splatter Painting
This activity is enjoyable for all ages and is best performed outside! Spread an old white sheet, butcher paper, or poster board on the ground. If it's windy, weigh down the corners with rocks, or use paper on the grass to place cardboard underneath as a stable platform. Then, all you need is an assortment of brushes and liquid paint in cups, such as watered-down tempera paint or liquid watercolours. Dip a paintbrush, dribble it over the sheet, or flick your wrist to splatter it across the surface. Experiment with close and far wrist flick arm and upper body movements and short and long wrist flick. Construct indoor forts with your paint-splattered sheet, or create little splatter paintings to use as notecards.
Coffee Filter Art
Coffee filters and food colouring can make tie-dye artwork or beautiful paper flowers. Take several white coffee filters, flatten them down, and then fold them in half two or three times to make a folded coffee filter. Put some food colouring in a few containers and fill the remaining containers with water. The folded coffee filter should then be dipped in various colours, starting with white and ending with black. Unfold it, then set it to dry on a sheet of newspaper. Your youngster can also add details by "painting" on the filters with cotton swabs dipped in food colouring and then placed on top of the filters. You can make flowers if you gather the dried coffee grounds in the middle of the coffee filter and add a stem made of pipe cleaners.
Explore the Properties of Playdough
Young preschooler can use play dough as a substitute for clay. Have a variety of implements ready for use with play dough, either handmade or store-bought, and a covered area (only provide a couple of tools at one time). Cutlery made from plastic could be a knife, fork, rolling pin, toothpicks, garlic press, whisk, miniature toy, potato ricer, or cookie cutter. You can also make "fossils" and patterns by pressing real or pretend objects into play dough. Your kid's artwork could double as props in their pretend games.
Produce Polka Dot Paintings
Create miniature works of art by combining the components. Give them cotton swabs to use as "brushes" and small pieces of index card or paper to use as palettes (set out on a newspaper-covered surface, of course). Fill a plastic egg carton or several tiny jars with liquid watercolour or tempera paint and let the kids go to town. Your kid might "paint" with the swabs or make a polka-dot masterpiece. Just throw in some cotton balls to change up the size and feel. Sponge, rope, an old toothbrush, and so forth all work as acceptable alternatives to traditional "brushes" when he's working on a painting job.
Tissue Paper Collage
Your kid will have the opportunity to experiment with colour mixing as they use glue that has been diluted with water to make a vibrant collage out of tissue paper (bond painted over the tissue paper allows the layers of colour to show through and combine). Use a pair of scissors or a pair of scissors and a pair of snips to cut different shapes out of the tissue paper. Then, paint the glue under and over the document using a paintbrush.
What Is A Good Craft For A 6 Year Old?
Hands-On Fun: Engaging Crafts for Kids Age 6
One of the essential subjects for young preschooler to take is arts and crafts because it will help them develop their cognitive processes, such as their ability to think critically, which will help them solve a variety of problems both in the classroom and in public life, as well as their abilities to create a variety of artworks using a variety of mediums and techniques, such as sketching and painting. This also allows young preschooler to develop their imaginative minds, which emphasizes the ability of the child to think of their goals and aspirations that will give them the direction they need to go for them to accomplish them. Lastly, this also helps improve their ability to identify and understand different emotions that they and others manifest, allowing them to act in a way that is favourable for them and their peers; this skill corresponds to the child's emotional intelligence.
According to studies, young preschooler who are knowledgeable and practice art-making help improve the other subjects that they are studying, such as mathematics and science, as well as strengthen their innate ability to read and write, their cognitive ability, and their critical ability to think, and their verbal skill.
Moreover, art also lets young preschooler broaden their minds and see the world from a different perspective, allowing them to understand the ways of other people and the world in general.
WHAT ARTS AND CRAFTS SHOULD I LET MY CHILD ENGAGE IN?
Simply doing artistic works such as drawing and painting may not be enough stimulants for your child to develop healthily. Young preschooler need to feel challenged to learn how to do the crafts they are doing, and this will also help them use their critical thinking skills to determine what themes the art is related to.
Keeping that in mind would allow young preschooler to gain confidence in partaking in more activities because of the sense of accomplishment they build from completing the training whilst maintaining their interest in the subject per se.
Animal model
Creating an animal model is a fun activity for young preschooler, using simple modelling clay-like play d oh. This allows young preschooler to stimulate their creativity and imagination to think of the animals they want to do and to know what processes they need to follow to achieve the likeness of the animal they believe to the modelling clay they are doing.
Other than that, this activity also allows young preschooler to practice their social skills by exchanging different ideas, like the animals they want to do or the colours they want them to have. This activity helps boost and develop the preschooler's fine motor skills by doing repeated hand and wrist actions like squeezing, twisting, rotating and kneading with their hands, palms, and wrists.
Cotton ball activities
Cotton ball activities are another fun hands-on art and craft activity for young preschooler, and this is quite similar to the "Animal model" activity in which the main difference is that animals and objects created through cotton ball activities tend to be much more soft and fuzzy, rather than soft and sticky and over time the texture of modelling clay tends to get hard and brittle which are the modelling clay's attributes.
With the cotton ball activities, they would be able to feel more texture in their creation because cotton retains its original texture unless they are exposed to liquid substance or fire, which would destroy the animal or object they have created. In comparison to clay models, cotton balls can be easily damaged.
Sock puppets
A sock puppet is another fun hands-on crafting activity that lets young preschooler create their original character. This activity requires certain materials, like a sock in their preferred colour, buttons, glue, yarn, and other art materials.
This activity does not just end with the creative process itself, but the real fun starts when they have completed their sock puppets by role-playing the character they have created with their peers and classmates.
This activity is suitable for letting young preschooler explore their imagination by creating an original character of their own. It also allows them to exercise their social skills by role-playing with their peers and classmates with the sock puppet.
Sidewalk painting/chalk
Sidewalk painting is an activity that is closely similar to simple drawing and painting; however, sidewalk painting possesses a different set of challenges for them to accomplish the task.
One of which is where they are allowed to do the activity. However, teachers and educators will tell them where they can do the action, but it is still essential to make it clear to young preschooler that it is not an activity they can do just about anywhere.
Another challenge they may realize in this activity is the limited method of erasing their work if they make a mistake.
However, this also brings young preschooler to another activity that they can do aside from drawing and painting the sidewalk. Hopscotch is an example of outdoor activity they can do with chalk and paint. It is a fun game that requires them to jump and hop in the boxes they created, enabling them to engage their gross-motor skills (big muscles such as legs and arms) to a certain degree.
Stick aeroplane
Stick aeroplane activity not just allow young preschooler to exercise their creativity by creating the stuck aeroplane itself and broadening their imagination through playing with them once they are done, but this also allows the young preschooler to take an interest in the actual aircraft itself.
This activity may help young preschooler realize their interest in building or flying an aeroplane once they grow old. This activity is a good start for them to develop their aspiration and goal to become a pilot or an engineer.
Butterfly making
Butterfly making is a creative craft activity that lets them design their butterfly to their liking. Butterflies, in general, are colourful and fun animals to have; they stimulate a lot of creativity within an individual. ThroughThrough creating the butterfly they want, they would be able to keep themselves inspired, critical, and full of imaginative thoughts.
Butterfly-making can be done using various creation methods, one of which is simple paper-cutting. With this method, young preschooler can choose what colour of paper they will use, whether they are just plain white colour or another colour they like. Moreover, this method allows young preschooler to paint the butterfly with a paintbrush or sponges freely.
Another method of making their butterflies creative is by cutting different coloured paper into various shapes and sizes and then pasting it to their butterfly cut-outs.
On the other hand, young preschooler may also do the paper-folding technique in creating their butterflies. However, this method will be significantly tricky compared to simple cut-outs because they will have to be precise on the folds they make, or they will become a butterfly full of creases.
Toy Camera
Similarly to stick aeroplanes, toy cameras require young preschooler to follow specific instructions to complete the toy camera they want. This activity may also spark them to become a camera maker or a photographer in the future.
Building block making
Building block-making is an activity that helps young preschooler develop their critical thinking capabilities and calculative thinking.
This activity does not seem to have these skills attached to them, but they help build their fundamentals of mathematics and physics.
SUMMARY
All in all, arts and crafts provide young preschooler with a means for them to explore and practice both their imagination and creativity by undergoing certain activities that involve creating art objects that correspond to specific subjects, such as animal modelling using clay or cotton balls, crafting an aeroplane using sticks and creating butterflies using cut-outs.
Moreover, letting young preschooler be exposed to different arts and crafts such as sock puppet making and sidewalk painting or drawing allows young preschooler to improve their social skills as they can use these activities as a basis for socializing, like role-playing with the character that they create using socks, and playing other hands-on activities through different drawings on the ground.
And lastly, arts and crafts also foster a child's aspirations and goals by exposing them to skills such as aeroplane making and toy camera creation, by which they can know the intricacies of the profession of such activities through imagining their selves to do such activities in the future.
This brings us to the thought that although the art subject is not as technical as most subjects like mathematics and science, it still plays a vital role in our child's development by giving them the freedom to think creatively and freely as they see fit in realizing their own goals and aspiration.
What Are The Art Activities In Kindergarten?
Fun and Easy Kindergarten Art Projects to Try Today
Art is a more subjective discipline than mathematics and science, which are objective and usually represent what people see. With art, a youngster may draw anything they want, and what they create may mean many things based on their personality, temperament, and attitude when creating their artwork.
Art activities are a good opportunity for young preschooler to learn many different things that correspond to the ability of the child to perform other activities and tasks that they need to accomplish, such as their capability to think critically in times wherein the solution to a problem is not available for them, and by only thinking on different perspectives is their only option.
Another benefit of performing art activities other that it allows young preschooler to practice their critical thinking capabilities, and it also allows young preschooler to practice their ability to function in a group or a team. This aspect will mostly correspond to their capacity to understand and follow instructions when only one person can accomplish the activities that they are performing. However, not all activities are like that, no? Group art activities are not only good for letting them think creatively about how they would present their output but will also let them learn how to work in a team per se.
In addition to that, whilst learning different things is an essential part of their growth, does that should not be a warrant for them to continue doing more and more activities that they are not fond of, rather art activities is supposedly a relaxing activity for them to explore their imagination and the subjects that they are interested in.
Besides being a relaxing activity, art activities are also a suitable medium for young preschooler to release their stress and express their emotions much more clearly through their manifestation in their drawings and painting.
Although art activities are a good source of learning and relaxation for young preschooler, it is essential to consider the child's willingness to learn and engage in activities highly dependent on the individual's personality and temperament. This brings us to the notion that having a good variety of art activities in store is a good practice for all teachers to find out which can boost the youngsters' abilities while also finding out which ones they like best.
.
WHAT ART ACTIVITIES SHOULD YOUNG preschooler ENGAGE IN
There are a lot of art activities that young preschooler may partake in, starting from the simple drawing of primary lines and shapes to creating play dough models of animals. Through these simple yet effective practices, they could hone their ability and technique for specific activities.
DRAWING
Using a pencil, a brush, or their bare hand is considered one of the most primitive ways of recording history that started from our very long ancestor, that is to this day holds a certain level of relevance since a lot of artists draw to create a sense of story within a composition, whether they are based on real-life experience or simply a work of imagination.
COLORING BOOKS
While colouring books are not about creating original artwork, it is still a practical activity to engage young preschooler on the different materials and colours they can use to create vivid and colourful work later on. One of the qualities that a creative person should possess is the ability to harmonize their colours through multiple tests and practices of mixing different colours, which young preschooler may acquire through this simple activity.
BRUSH PAINTING
Brush painting alone is one of an individual's most challenging art activities. Not only would they have to think of the colours that they want to put in the artwork, but they would also need to plan how they would implement it because different materials such as watercolours, oils paints, acrylic, and gouache react differently from one another, some will dry quickly, while others are not, and some have different reactions when placed on additional material.
While brush painting is complex, if the one performing wants to complete an aesthetically pleasing work, young preschooler do little to no care about how beautiful it looks. Instead, playing with the brush and paints would allow them to exercise their brain to think critically and evaluate how these materials react. It will help them foster their overall cognitive capability through multiple subjects.
HAND PAINTINGS
On the other hand, painting is not only done through the use of brushes, but other methods can also be applied, for example, with the use of a stick to smear paint onto the paper or board where they are painting, or in this case the hands of the individuals who are painting.
Hand painting is an activity that is fun to perform; this is especially true with youngsters who are fond of being a little bit messy,
This activity will help the kids become better artists by encouraging them to use their imaginations to picture the items they want to include in their artwork. It will also sharpen their mathematical skills as they determine how long of a stroke they need to complete their painting.
PICTURE COLLAGES
On the other hand, picture collages are different from drawing and painting. The way picture collages are done is that they let young preschooler to glue and piece together a picture that contains a person, an object, or a letter to create a new artwork with a new meaning to it.
Furthermore, picture collages are enjoyable; you clip a photograph using a cutting tool like scissors or box cutters, attach it with glue, snip another photo, and stick it, making a new work that means something different. This activity is also a good choice for a youngster who likes being messy with their hands and for those who could be better at drawing or colouring. Since this type of activity would only need them to paste and glue different materials to their canvas.
ANIMAL MAKING
Animal making is an activity that is similar to picture collage in that they glue their pieces together to make an animal-like portrait or mask. This task necessitates drawing talent, but primary forms such as a line, square, triangle, and circle are required to finish it.
This activity will allow preschooler to learn about animals other than the ones they are used to seeing, such as cats and dogs. They may also be able to learn about fictional animals that are only found in picture books, such as unicorns and dragons.
PLAYDOUGH
Playing with play dough is not just beneficial to a child's development with their fine-motor skills. Still, it is also a practical activity in helping young preschooler expand their creativity and imagination in moulding objects, animals, or persons they want to create.
Along with being a great help in developing young child's cognitive capability to think creatively and imaginatively, it is also a fun activity they can do with their classmates and peers during and after they perform. Since play dough tends to harden under cold and dry temperatures, this will allow them to be used as unique action figure toys that they can use to play with their classmates.
On the other hand, with its malleable soft form, young preschooler can form the play dough to their liking by kneading, twisting, and rolling.
SOLAR SYSTEM PROJECT
The solar system project is an activity that revolves around (no pun intended) re-creating our solar system, which allows young preschooler to learn how to create miniature models creatively. This activity should be performed by a group of preschooler rather than an individual activity because of its difficulty and time to finish all the planets in a single session.
This is done by following a series of steps and procedures to create, as well as different tools and materials like Styrofoam balls of various sizes, scissors, wires or threads, and colouring materials.
This also allows young preschooler to take up an interest in science, specifically astronomy, which presents many exciting topics for youngsters to study.
SUMMARY
Art activities are essential hands-on activities that young preschooler should perform to develop their potential in creating beautiful artworks and improving their capability to think critically, creatively, and imaginatively, which are prominent aspects of learning for young preschooler.
Activities such as drawing, painting and hand painting are suitable fun activities for practising the fundamentals and basic skills like colouring and using a pencil or brush.
While photo collages and animal-making activities tend to exercise their imagination by envisioning the pieces they want to add to their work while following the process that they think is effective for them to complete their work.
And lastly, the play dough and solar system project is a practical hands-on activity for young preschooler to practice their imaginative minds, creative thinking, and ability to work well in a team.
What Can Kids Make With Paper?
Paper Playtime: 10 Creative Projects for Kids to Make
Making paper crafts is an excellent way to relieve tension and develop motor skills. Crafting with kids can be enjoyable, but let us face it, the materials can get pricy at times. If you want to save time on creative supplies, paper crafts are the way to go.
One magical material always shines through when it comes to crafts with preschooler: paper. Your art supply cabinet is only complete with this specific DIY component, whether it be construction paper, computer paper, or yesterday's newspaper.
The most basic of all the essential craft supplies is construction paper. Although you presumably already have some at home, it is accessible in almost all stores. Kids can create a ton of fun projects using construction paper. You may also recycle old newspapers and magazines for entertaining kids' crafts. Paper can be found at both home and school. Furthermore, it offers kids countless craft options.
This collection of simple paper crafts for kids includes a variety of gorgeous creatures, unique flowers, and other enjoyable tasks. Kids can concentrate on honing their cutting abilities most in paper crafts, and several of these projects also require tracing, weaving, and paper folding.
Therefore, give one of these enjoyable paper crafts for kids a try if you are searching for a quick activity to do with the kids today. For this reason, we have rounded up eight fantastic paper crafts for kids that prominently highlight this essential supply and give step-by-step instructions to walk you through how to construct them. These crafts range from paper painting to garlands and festive hats.
Please look through this selection of easy paper crafts and find inspiration for your next paper creation for your kids.
Paper Flower Craft
Preschoolers will love making flower crafts, and you do not have to feel bad about frequently cutting beautiful flowers!
An excellent Mother's Day and Valentine's Day gift, this simple papercraft art spreads colour and happiness into our world.
Materials needed:
Colour paper
Scale
Scissors
Glue
Straws
Cello tape
How to do this:
1. Cut paper into long, uniform strips.
2. To create the flower's centre, cut a circle in the shape of a process.
3. Create a loop, then glue them together.
4. Now, set up the curls to resemble a flower.
5. Use cello tape to attach the blossom to the straw.
Paper Ladybug
These lovely and colourful ladybugs bring cuteness and a smile to your home or classroom.
We love ladybugs, and they are one of the cutest bugs out there. They are so tiny and gather on all kinds of plants. They sleep like that, and if you watch them from close, they will melt your heart.
Ladybugs love honey, so if you find flowers around your home, bring honey drops and feed these adorable critters.
Materials Needed:
circle puncher
colour papers
white papers
glue
googly eyes
scissors
black liner/marker

How to do this:

1. Punch four circles from each colour paper using a circle puncher.

2. Fold three of the circles in half.

3. Apply glue on two circles folded in half, as shown in the picture.

4. Glue the two circles folded in half on the full circle.

5. Put some glue on both halves of the third circle.

6. Place this circle in the middle and attach the ends.

7. Draw black dots on the ladybug's body.

8. Draw a tiny head, as shown in the picture.

9. Glue the head to the body.

10. Cover the head in black colour.

11. Add the googly eyes on.

All done!

You can glue them on the walls in your room if your parents allow that. We bet they will because these ladybugs make the lovely decor.

Family Handprints Peacock Puppet

The peacock is one of the world's most stunning and vibrant birds, and we enjoy creating crafts in vibrant colours.

Materials Needed:
Cardstock Papers
Wiggle Eyes
Craft Stick
Glue Stick
Scissor
Pencil
How to do this:
1. Draw and cut out the handprints of the family members to make colourful feathers.
2. Cut out the shape of the peacock's body, beak, feet, and crest.
3. Glue the handprint cut-outs together, starting with the largest at the bottom and the smallest at the top.
4. Glue wiggle eyes, beak, feet, and crest to the body.
5. Glue the peacock's body to the handprint feathers.
6. Glue a craft stick to the back, making it a puppet for the kids to play with.
7. Moreover, the peacock puppet craft is ready.
Dinosaur Handprint Card
These enormous dinosaurs are fashioned like the majestic diplodocuses and apatosaurus, both kind and herbivorous. They are big, secure, warm, and amiable, much like dads are for their offspring. Preschoolers adore them.
Kids will adore making this adorable handprint activity, dads will love receiving it, and teachers will find it simple to make in a classroom. So get to work and create these enjoyable Father's Day cards.
Materials Needed:
Cardstock Paper
Pom Poms
Big Googly Eyes
Glue
Black Marker
Scissor
Dinosaur Head Template
How to make them:
1. Fold a cardstock paper into half.
2. Draw your child's handprint on one side.
3. Remove the handprint while leaving the top intact.
4. The card's top side should have the dinosaur's head
5. cut out and adhered behind it.
6. The dinosaur has to have pom-poms stuck to it.
7. Attach two stick-on eyes to the head. Make the mouth of the dinosaur using a black marker.
8. Lastly, let the kid add a heartfelt note to the card for dad.
So that is it. The dinosaur card with your child's handprints is ready to surprise the father.
Colourful Hot Air Balloon Craft
Materials Needed:
Cardstock Paper (5 different colours)
Empty Toilet Paper Roll Tube
Twine
Glue
Pencil
Scissor
Needle
How to do them:
1. Draw the shape of the balloon on one piece of cardstock paper.
2. Hold all five cardstock papers together. Cut along the balloon shape drawn on the first paper. This ensures that all the balloon shape cut-outs are of the same size.
3. Fold the cut-outs from the middle.
4. Glue all the cut-outs together, as shown below. Also, glue a twine in the middle, making a lovely hanging for the balloon.
5. Punch small holes on any four edges. Thread 7~8cm of twine through the holes and knot at one end, as shown below.
6. Cut a 3.5cm height cylindrical piece from a paper roll tube.
7. Cut 3.5cm strips from the cardstock paper to decorate the tube.
8. Decorate the tube with multi-colour paper strips making a beautiful gondola.
9. Glue/tape the four twine hanging from the balloon to the gondola. And the hot air balloon is ready to spin!
Jack-O-Lantern Paper Pumpkins
A carved pumpkin lantern known as a "Jack-o-lantern" is connected to the Halloween celebration.
Materials Needed:
Cardstock Paper
Stapler
Glue Stick
Scissor
Pencil
Ruler
How to make them:
1. Cut out a strip of orange paper (~2.5″-3″ width) and draw a line dividing the paper into 2:3 ratios. Drawn vertical lines approx. 0.5″ apart.
2. Cut along the vertical lines.
3. Staple or glue the vertical cut-outs to the opposite end of the paper strip, as shown below.
4. Cut the required paper strip to make a circular shape for the pumpkin
5. Cut out eyes and mouth from black paper and stem from green paper.
6. Glue eyes, mouth, and stem to the pumpkins.
7. And these cute little pumpkins are ready for your little munchkin to play with!
Butterfly Papercraft
Butterfly crafts are usually attractive during Spring. Over the years, we have made a lot of butterfly crafts, but my favourite is the rainbow footprint butterfly.
Although pastel shades or patterned papers would also look lovely, we prefer the vibrantly coloured papers used for this butterfly paper craft.
Materials Needed:
Coloured craft paper
Template
Scissors
Craft glue
How to do this:
1. Before starting, cut out two ribbon-shaped patterns for the upper and lower wings.
2. Make accordion folds on the wing patterns. Try to keep the folds small and even.
3. Take the lower wing pattern and apply glue to the middle part of the wing.
4. Take the upper wing pattern and attach it to the lower wing pattern where the glue is. Squeeze the joint part to make sure that the wings are attached nicely.
5. Cut a small piece of yarn thread and tie it around the middle part of the wings. Keep enough yarn thread at both open ends for the antenna and cut off extra if required.
6. Spread the folds of each butterfly wing carefully.
7. And there we have it, a beautiful paper butterfly craft.
Rainbow Craft
These adorable paper strip rainbows are simple to make and take less than 10 minutes. They are SO PRETTY, and this is a terrific way to use up your construction paper.
You can hang the red paper strips from the wall, the ceiling, or a window by wrapping a string around them. Additionally, they may stand on their own. As a result, you can use them as sweet little accents on child's nightstands or dressers.
Materials Needed:
Scissors
Ruler
Stapler
Construction Paper (RED, ORANGE, YELLOW, GREEN, BLUE, PURPLE)
Two Cotton Balls
How to do this:
1. Construction paper measuring 12 by 9 inches should have a 1-inch strip cut from the shorter end. The strip
2. must be nine inches long by one inch wide.
3. Make red, orange, yellow, green, blue, and purple strips
4. by cutting each rainbow colour into a 1-inch by 9-inch strip.
5. You should trim each colour to be about 1 inch shorter than the colour that comes after it. The length of the colours red is nine inches, orange is eight, yellow is seven, green is six, blue is five, and purple is four.
6. It would be best if you stacked the paper strips on top of the other in the order of the rainbow. Staple through all six strips at a 1/4 inch or so from the end , aligning the ends of the strips on one side.
7. You should align the ends of the opposite end of each paper strip. Match the ends of the two shortest strips first. Next, line up each end of the subsequent colour until they are together.
8. Again, staple the paper strips about a 1/4 inch from the end.
9. You'll need to fluff up a cotton ball to create the clouds. If it is difficult to separate the cotton ball, cut it on one side with scissors.
10. Then pull it apart and stretch it into a cloud
form.
11. Put a cotton ball in the centre and a rainbow at one end. To keep the cotton ball in place on the rainbow, folding it on both sides would be ideal.
12. Your rainbow craft is finished once you have done the same with the cotton ball on the opposite side of the rainbow.
Preschool crafts are a valuable tool for young child's development – offering countless benefits beyond the fun and entertainment they provide. Preschoolers can enhance their cognitive, motor, and social-emotional skills by engaging in various craft activities while also fostering their creativity and imagination. Whether painting, drawing, sculpting, or even simply cutting and pasting, preschool crafts allow preschoolers to express themselves and explore their world in a hands-on, meaningful way. Educators and caregivers can help preschoolers thrive and reach their full potential by incorporating these activities into a well-rounded preschool curriculum. So, whether you're a parent,
teacher
, or caregiver, this article has inspired you to incorporate more preschool crafts into your child's life and help them discover the joy of creating and learning through play.